Mother-baby relationship may be the key to postpartum therapy
SSW researcher wins grant to study treatment of mood disorders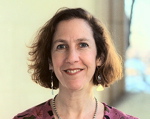 This story was published on BU Today October 5, 2005.
There is something remarkable about the Early Connections mother-infant treatment program of the greater Boston Jewish Family and Children's Service: it works. A School of Social Work researcher recently won a $100,000 grant to learn why.
Ruth Paris, an SSW assistant professor, will investigate the JF&CS program in a project sponsored by Wellesley College Centers for Women. Titled Primary Prevention for Very Young Children: Studying the Intervention Methods of a Home-Based Mother-Infant Treatment, the project is funded from September 1, 2005, through August 31, 2007.
The National Institutes of Health recently reported that the potentially devastating conditions of postpartum mood disorders are underdiagnosed and undertreated. The symptoms affect as many as 15 percent of new mothers, the report says, but only a small fraction of them are diagnosed and receive treatment, according to Paris. Not only does this leave many women to suffer alone, but leads to poor physical and social-emotional outcomes in infants and children.
"As you might imagine, some of these women are pretty incapacitated," Paris says. "There is a strong correlation between how they interact with their baby and how the baby develops." Typical treatment for mood disorders, for mothers and other patients, is medication or psychotherapy. But the JF&CS program works directly with both the mother and the baby. "It's a unique dyadic approach to treatment," she says, "and that's why it's worth studying systematically."
JF&CS serves more than 60 families a year through its five-year-old Early Connections program, which brings clinicians into the homes of new mothers suffering from postpartum depression. One important factor in the program's success, says Peggy H. Kaufman, director of the JF&CS Center for Early Relationship Support, is that it's home-based. Women with postpartum depression, she says, are often too isolated or fearful to get outpatient treatment and "to call someone and set up an appointment and get there with a new baby is a huge obstacle."
Clinicians meet with mothers for three months with an option to continue. "We lead with a relationship-based appraoch," Kaufman says. "We don't have a recipe for a particular model. The work begins by learing about the family, the culture of the household and the dynamic of the mother-baby relationship."
The women needing help are often referred by a wide range of sources, among them, the Visiting Moms program at JF&CS where trained and supervised community mothers provide weekly visits to pregnant women and mothers of newborns. Other women are referred by hospital social workers or nurse practitioners who see a new mother struggling with her postpartum adjustment and her relationship with her baby.
Paris has also done qualitative research on the Visiting Moms program, and Kaufman has praise for her research style. "She's someone who moves in slowly and with such respect for our program and our clinicians," Kaufman says. "She epitomizes, for me, the ideal researcher who develops relationships with the people with whom she works. It's a collaborative effort."