Meet Veronica Ocasio
Veronica Ocasio is enjoying the things she'll miss from home in Puerto Rico before she comes to BU.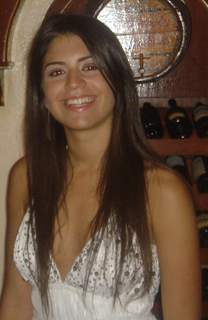 Name: Veronica Ocasio
From: San Juan, Puerto Rico
School: College of General Studies
Major: Public relations
What convinced you to go to BU?
I just absolutely adored the urban atmosphere and that it was a large university. I knew that it would give me the opportunity to meet different kinds of people from various backgrounds.
What are you most excited about coming to college?
Being independent and learning more about myself.
What is a fear or worry you have about coming to college?
I don't really know how I'm going to distribute my time wisely between studying and socializing!
What kinds of activities do you want to become involved in?
Music, arts, dancing, religion.
What is one of the goals of your first year at BU?
Decide my major, have outstanding grades, and have a great time.
What accomplishment are you most proud of?
I can't think of one right now. But I can say that I'm pretty proud of what I've become.
What will be your first stop when you start exploring the city of Boston?
Any restaurant with awesome crab legs and seaweed salad.
How are you spending your summer vacation?
I'm just sleeping, eating really nice food, tanning, shopping — pretty much enjoying the things that I'm going to miss a lot once I leave.
What's one interesting thing about yourself?
I can make friends quickly and just love meeting new people.
If you are in the Class of 2010 and want to be featured on BU Today, email today@bu.edu.