Meet Kristen Williams
Kristen Williams is excited for her freshman year and would like to join the BU swim team.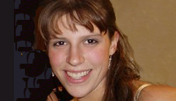 Name: Kristen Williams
From: Brookfield, Connecticut
School: School of Management
Major: Business, finance/marketing
What convinced you to go to BU?
The faculty and the amazing surrounding city of Boston.

What are you most excited about coming to college?
I am most excited about meeting so many people, challenging myself, and finding out who I am.
What courses are you most interested in taking?
I am very excited about taking the freshman introduction to all types of business. I am also looking forward to taking an ethics class.
What kinds of activities do you want to become involved in?
I am planning on swimming for the BU swim team, and I would also like to join some other clubs that I normally wouldn't be able to at home.
What will you miss most about home?
I will miss my two cats and obviously my family.
What's one interesting thing about yourself?
I love music and cooking.
If you are a member of the Class of 2010 and would like to be featured on BU Today, email today@bu.edu.