Informal connection leads RAs to Fenway Park
How to make friends and money and watch the Sox at the same time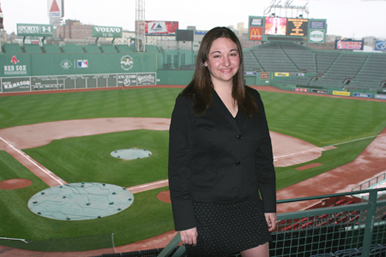 Elana Convicer had heard from a colleague that the eight-year-old boy clutching his Little League glove was about to see his first live Red Sox game, so she made a special effort to welcome him to Fenway Park. "Do you feel any different?" she asked, as the boy pushed his way through the turnstile and into baseball heaven. "Yeah," he said as his wide eyes took in the hectic scene. "I do."
Convicer (CAS'05, SED'05,'06) is a senior resident assistant (RA) at Warren Towers, but it's her other part-time job that lets her stroll into Fenway Park without a ticket, making her the envy of Red Sox Nation. She is the supervisor of customer service for the team's new EMC Club and State Street Pavilion seats.
Convicer isn't the only University RA who works at Fenway. Thanks to an informal referral network linking the Sox and the Office of Residence Life (ORL), four other students are regularly making the short trek down to Yawkey Way for part-time work this season. Among the 30 Fenway employees Convicer supervises are Warren Towers RAs Doug DiSabello (ENG'04,'06) and Mark Hansen (CAS'06), who are greeters in the new ballpark luxury sections, as well as fellow greeter Jim Rivera (CAS'07), an RA at West Campus Commonwealth Avenue residences, and Red Sox guest services representative Marisa Wohl (COM'06), an RA at Warren Towers.
Convicer, a lifelong Red Sox fan, began working at Fenway during the team's magic 2004 championship season. The Glastonbury, Conn., native says she will never forget the electricity in the ballpark that year, especially in the fall. "To be there during games four and five of the American League Championship Series, and then in games one and two of the World Series — it was unbelievable," she says.
What's behind the BU-Sox connection? Convicer says it's satisfied customers. She first heard about the job from former Fenway Park tour guide Karen Belanger, who in 2004 was ORL area director of Warren Towers. "From what I see," Convicer says, "the Red Sox have been very happy with their BU student workers." University RAs tend to be model Sox employees, especially in customer service, she theorizes, because of their people skills. "Interacting with BU students and staff in my RA job really taught me a lot," says Convicer, who typically arrives for work at 4 p.m. for a 7 p.m. game and stays until 11 p.m. As an aspiring teacher, she finds that her teaching skills come in handy when training workers.
The idea of hiring greeters and "goodwill ambassadors" was part of a push on the part of the team's new owners for a friendlier Fenway Park. "It's an ideal job," says DiSabello, who describes Convicer as the perfect boss. And as for working in the EMC Club (the former .406 Club behind home plate) and the upper level State Street Pavilion, "There is no better view of the game, except for the infield box seats," he says. "I'm definitely not in it for the money."
That's not to say that DiSabello has his eyes glued to the field for three straight hours.
"I have to watch the fans," he says, "but it's also helpful to know what's going on in the games, so when they leave their seats to get snacks, someone will ask me, 'Hey, who hit that double when I was gone?' or 'How many outs are there?' It's part of my job to tell them."
Not a bad gig for a college student. "It's an incredible place in which to work," says DiSabello, who hails from Boca Raton, Fla. "The fans are the most dedicated in baseball. Every game is sold out, and the Red Sox can be down eight runs in the bottom of the ninth, and everybody will be standing up and cheering for a comeback. I know I won't always have this job. I'll be leaving Boston this fall, but I'll always have these memories."