Hoops Doubleheader Hits Agganis Tonight
Men's basketball hosts UMass, women battle Brown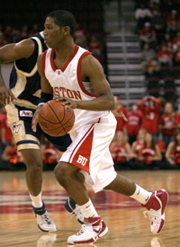 With six freshmen, five sophomores, and two seniors, men's basketball coach Dennis Wolff has a young team — the youngest squad in his 13 years at BU. But his recruiting has paid off with a freshman class that's been amazing Terrier fans at every game.
To be sure, BU (3-4) will need a spectacular effort from all its players on Wednesday, December 6, when UMass visits Agganis Arena at 8 p.m. The Lady Terriers (4-3) lead off the evening at 5:30 p.m. against Brown.
UMass, off to the best start since its 1995-1996 Final Four season, is 7-2 overall. Minuteman forwards Rashaun Freeman and Stephane Lasme are a dominating presence "and certainly present a physical challenge for us up front," says Wolff. UMass was crushed by Boston College, 84-73, on December 2 and won't be coming down the Mass Pike in a charitable mood.
But BU's freshmen are making a sudden impact that UMass can ill afford to ignore. Corey Lowe (CGS'08), for example, scored seven points in his college debut against George Washington November 10 and then went on to post six straight double figure efforts. His seven three-pointers in BU's 74-65 victory over Manhattan College November 25 tied the University record and earned him America East Rookie of the Week honors. "He's ego-less, and he's a 100 percent team player," says Wolff of the conference's sixth-leading scorer. "Corey Lowe sets a very good tone for the team."
Tyler Morris (SMG'10) is having an impressive rookie year as well, leading BU with 19 points in the Terriers' lopsided 92-55 victory over St. Bonaventure on December 3. And then there's fellow freshman Carlos Strong (CGS'08), who poured in 19 points in the Terriers' 70-57 loss to George Washington.
Wolff says the two senior cocaptains, Brian Macon (CAS'07) and Omari Peterkin (CAS'07), have provided the team with excellent leadership. Still, with such a youth movement in a conference full of veterans — rookies typically take time to learn how to play at a high level with consistency — the Terriers are picked to finish fifth in America East. "As is often the case with a young team, we play well offensively one game and play well defensively the next day," says Wolff. "Our coaching staff has been trying to get them to understand that we have to play both ends of the floor every game, which is what we did against St. Bonaventure. We've improved in every game, and that's what's important."
The women's basketball team (4-3) is coming off a 65-59 victory over Eastern Michigan on December 2, a game that saw the scoring spread out among freshman Aly Hinton (CAS'10), who scored 14 points, junior Cheri Raffo (SAR'08), with 13 points, senior Erica Kovach (CAS'07), who had 13 points and 12 rebounds, and senior Katie Meinhardt (SMG'07), who scored 11 points. Meinhardt netted a career-high 26 points in BU's 93-79 victory over Northeastern on November 21. Meinhardt, Raffo, and Kristi Dini (CGS'08) all scored double digits in BU's 68-66 victory over the University of Missouri–Kansas City on November 18.

"Katie Meinhardt's competitiveness and maturity are two qualities I count on every game," says women's basketball coach Kelly Greenberg. "She is a huge key to our team reaching its goals this season."
The BU women have played in four straight conference championship games — winning in dramatic fashion against Stony Brook and New Hampshire in last year's tournament before bowing to Hartford, 75-56. The Terriers were picked to finish third this year in the America East preseason coaches' poll.
"Our team's strengths are its depth, the number of players who can score, and toughness," says Greenberg. "Our weaknesses are free-throw shooting and handling the ball. We have a good basketball team that just needs to learn that every possession means everything. Possession basketball is key for us against Brown."
 
Brian Fitzgerald can be reached at bfitzger@bu.edu.