Honor of a lifetime
COM associate professor Stephen Quigley receives lifetime achievement award.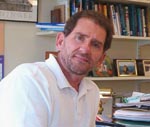 The Publicity Club of New England has awarded Stephen Quigley, a College of Communication associate professor, its John J. Molloy Crystal Bell for lifetime achievement.
Quigley (SED'87) was honored at the club's 37th annual awards ceremony, held June 6 at the Boston Marriott Copley Place. The Publicity Club is the region's oldest professional organization for public relations and communications and its Bell Ringer Awards have become the professions' standards of excellence.
The founder of Stephen Quigley Communications in Reading, Quigley is a public relations consultant concentrating in the areas of media relations, community relations, and crisis communication. Prior to opening his own agency, he was a partner for 10 years with the Boston public relations firm Schneider & Associates. He has provided strategic counsel and created public relations campaigns for a broad range of national and international clients.
Asked about career highlights, Quigley mentions achievements not measured in his company's bottom line. He is proud of his professional work, he says, but "at the end of the day, I think I'm most proud of the way I treat all the people I work with. I try to treat people with dignity and not underestimate their intelligence."
Recent graduate Ashley Cheng (COM'06) says she cannot imagine her Boston University experience without him. "He's one of those people whose door is always open," she says, calling him the "cheerleader to all P.R. students at BU."
This summer, Quigley is teaching a new class on social activism and public relations.  Unlike previous P.R. classes offered by the University, it instructs students on how to effect change in government policy through nonprofit and other socially active organizations.
Quigley received a B.A. from the University of Massachusetts and a master's in education from Boston University. He and his wife, Lucille, are working on a book about the molasses flood that occurred in Boston's North End about 88 years ago.