For Ramadan's early risers, the goods are to-go
Islamic Society, Dining Services adopt a new schedule for the holiday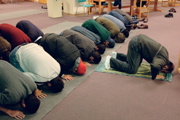 When Ramadan, the month-long Muslim holiday that commemorates the revealing of the first verses of the Koran, began on Saturday, September 23, it launched a month of careful planning for the members of BU's Islamic Society. During the holiday, observant Muslims refrain from eating and drinking between sunrise and sunset, meaning that meals have to be eaten before dawn or at night.
This year, for the second time, BU's Dining Services is collaborating with the University's Islamic Society to help students celebrate the holiday. From Sunday through Thursday nights, meals will be offered after sunset at the West Campus dining hall for students observing the daily fast.
"We pray beforehand at 1019 Commonwealth Ave., eat together, then go back to 1019 and pray again," says Alina Mussawi (SMG'07), the society vice president. "It's so that students can have a communal feel."
For breakfast, students can pick up a to-go meal from the dining halls in West Campus and Warren Towers the night before. All the food at both meals is halal, which refers to anything that is permissible under Islamic law and applies to both the type of food and the way it is killed. The cost is covered for students with meal plans and subsidized by the Islamic Society and Dining Services for students who live off campus.
"Dining Services has been really helpful," says Sultan Mohammed (CAS'07), the ameer, or president, of the Islamic Society. "They're always trying to work with us in terms of menu options and logistics."
Students in the society will also be volunteering at a local food bank, Dorchester's Fair Foods, to reflect the holiday's emphasis on helping others, and are inviting BU students, faculty, and staff to celebrate with them at an open iftaar, or fast-breaking, on Sunday, October 1, in the GSU's Metcalf Hall.
Halal food will remain available in Shelton Hall for two days each week, Mondays and Thursdays, for the rest of the academic year. The program began last year, says Mussawi, and was so successful that Dining Services decided to expand it.
"Everything was already in place from last year," Mussawi says of the celebration. "So this year, we could improve it and make it better."
Related articles:
Halal for All: Islamic Society and Dining Services start a new tradition
On being European and Muslim: A scholar talks about exclusion, hope, and different ideas about 9/11