Fashion Sense Meets Business Sense
Fashion designer Sam Mendoza (COM'08) presents his new collection at the GSU on November 17.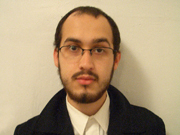 Sam Mendoza (COM'08), president of the Fashion and Retail Association at Boston University, began sewing clothes by hand with friends during freshman year. Now, his women's clothing line JeTom, which he created and designs, is sold in the Newbury Street boutique Stil and modeled on runways at BU.
His latest creations, along with pieces by three other students, will be shown in a fall fashion show on November 17 in the George Sherman Union Ballroom at 7 p.m. "I overstretch myself," says Mendoza. "I'll be showing 40 pieces."
Mendoza, a member of the Fashion and Retail Association since 2005, was the only designer featured in the association's shows until intrigued students asked about exhibiting their own collections. Any student who has created more than three pieces of original clothing can send models down the association's runway. "The whole point is to show how a fashion show works, from picking the models to hair and makeup," says Mendoza. "So once they get into the industry, they know what to do."
JeTom, which Mendoza describes as a unique and humorous line of clothing, has recently garnered recognition from local media. Mendoza will be featured as an "emerging Boston designer" in Nylon Magazine this month, and has been included in issues of DailyCandy Boston, an electronic newsletter on fashion trends in the area, and The Weekly Dig.
Stil boutique, where Mendoza is a sales associate and merchandiser, has already sold several pieces from the JeTom collection. Others have been sold by word of mouth at Boston area colleges, according to Mendoza, who also has a runway show at Wellesley College.
Brittany Jasnoff can be reached at bjasnoff@bu.edu.