Exploring the whole person
For Patrick Short (CFA'08), growing up in conservative family has impacted his art.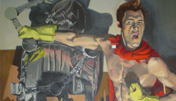 Painting major Patrick Short (CFA'08) grew up in a conservative, fundamentalist family, an experience that he feels greatly influences the art he produces.
"Since my sexuality was highly suppressed during my later formative years, I have had to explore that topic in my art," Short says. For him, creating overtly sexual work helps him become comfortable with the theme now so that in the future he can pursue a subject he is interested in.
"This need to explore that side of myself, compounded with 19 years of video games and cartoons, is what I blame for some of my early art. Bright, funny, tacky, and a little uncomfortable," he says.
The featured artwork was selected by the BU Art League, a student-run group based in the School of Visual Arts at the College of Fine Arts. The organization helps undergraduate student artists learn more about the art world than they might normally learn in the classroom. The Art League tries to build a strong community through monthly meetings, exhibition opportunities, and a monthly newsletter. For more information, contact league founder Anne Albagli (CFA'08) at anniea@bu.edu.