Dining outside the box
Six nearby al fresco spots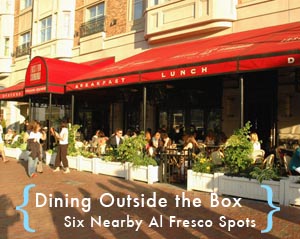 Boston has a short season for outdoor eating, but restaurants all over the city make the most of the opportunity — opening up patios and setting tables out on the sidewalk to accommodate diners who want to eat al fresco. BU Today recently investigated six pleasant choices within walking distance of campus.
$—Inexpensive; $$—Moderate; $$$—Expensive; $$$$—Very expensive
 
Taberna de Haro
999 Beacon Street
617-277-8272
$$$
Dinner:
Monday-Thursday, 5:30-10 p.m.
Friday and Saturday, 5:30 -11 p.m.
On a warm summer evening, the eight tables on the wide sidewalk in front of Taberna de Haro fill up fast. Those who arrive after 7 p.m. are likely to be seated in the handsome yellow-walled interior, a space dominated by an enormous brick chimney and hung with strings of dried garlic and peppers. Inside or out, guests are in for an evening of fine food in a relaxing atmosphere.
The menu includes dishes from all over Spain, with the bulk falling into one of two categories: "pinchos," one- to two-person morsels ($4 to $6); and "raciones," larger snacks ($7 to $24), intended to delight, but not necessarily feed, up to four. Some choices, such as frogs' legs, octopus, or rabbit, may be beyond the pale for the average American palate.
Many dishes rely heavily on that apparent mainstay of Spanish cooking, salt, so it's a good thing the restaurant offers an exhaustive list of beverages. Taberna de Haro claims to sell 150 wines, several beers, and a handful of brandies and sherries, but no hard liquor.
 
To keep things simple, our party went with house wines (served by the glass at $6 and more than satisfactory) and asked for four dishes that were popular with the dinner crowd. The first to arrive was a plate of croquetas de jambon: light, deep-fried puffs of dough with bits of ham and a warm béchamel sauce. Then came spinach Catalan, nicely undercooked and served in briny oil with pine nuts and golden raisins. Shrimp followed, sizzling hot and sautéed with a sinful amount of garlic. Finally, we were served a plate of thinly sliced and heavily cured ham. The four dishes held more than enough food for three people, but we wisely saved room for flan.
This is a place to spend a leisurely evening in the Spanish style, meaning without haste. The restaurant draws all kinds of people — from professors in ties to women in leather jackets and men in T-shirts. The one thing they have in common? No one is in a hurry to go anywhere else. —Art Jahnke
Audubon Circle
838 Beacon Street
617-421-1910
$$
Lunch, dinner:
Monday-Friday, 11:30 a.m.-11 p.m.
Saturday and Sunday, 5-11 p.m.
Nestled into an unassuming stretch of Beacon Street a few blocks from Kenmore Square, Audubon Circle offers al fresco dining on a little patio out back.
The eatery's slightly out-of-the-way location means Audubon is rarely uncomfortably packed. And its proximity to Fenway Park makes it a great pit stop before or after a Sox game.
The smallish patio, surrounded by a tall wood-plank fence softened by leafy bamboo, sits in a canyon of red-brick apartment buildings, and the piped-in music is heavy on the hip-hop. Smoking is allowed outside and many diners take advantage, so if a few whiffs of cigarette smoke will ruin your meal, you're better off inside.
Out on the patio, the service is friendly and attentive, and the overall vibe is trendy without beating you over the head with it. Single malt scotch and tequila are both on offer, but wine and especially $4 draft beers are more popular with this young professional crowd, a fair number of whom were sporting Red Sox caps during a recent visit.
 
The menu lists a nice mix of bar food and more interesting options, although everything costs about the same. So, while $8 might seem pricy for a hamburger, it seems about right for the cubano sandwich. For starters, diners can choose items that range from potstickers ($7.50) to roasted vegetable quesadillas ($7.50) to grilled shrimp with a citrus dip ($8.50).
In addition to the variety of sandwiches, there are more expensive entrees, including grilled tuna, rib eye, and pork chops, running from $15 to $17. The kitchen at Audubon closes at 11 p.m., but the bar stays open until 1 a.m. —Chris Berdik
Sol Azteca
914A Beacon Street
617-262-0909
http://www.solaztecarestaurants.com/index.htm
$$$
Dinner:
Monday-Thursday, 5-10:30 p.m.
Friday and Saturday, 5-11 p.m.
Sunday, 5-10 p.m.
Half a mile from Marsh Plaza, Sol Azteca has been serving Mexican and Spanish cuisine since 1974, and the place has a cozy, lived-in elegance. The waitstaff chat amiably in Spanish, the sangria has been voted Best of Boston by Boston magazine, and the entrees have an enticing and aromatic authenticity.
All this good news, of course, means that you're going to have to wait for an outdoor seat. The sidewalk patio is comfortable and popular, and Sol Azteca accepts reservations only for indoor seating. On weekends, expect a 20- to 30-minute delay before you can sit down to enjoy the breeze while sipping your pomegranate margarita. Tables for two dominate the patio, so it's a good place for a date. The atmosphere is lively without being intrusive.
Above and beyond appetizers (cooked cactus and chicken livers are two options for the adventurous, at $5.75 and $5.25, respectively), soups, and salads, the menu is divided into traditional plates and specialties. Traditional plates feature such dishes as tacos fritos (crispy taco shells filled with chicken or beef, for $12.50) and fajitas (beef or chicken for $15.25, shrimp for $18.25).
The specialties menu offers more interesting entrees, among them pollo veracruzano (boneless chicken breast cooked with tomatoes, mushrooms, and almonds, mild, $14.50) and camarones al cilantro (shrimp grilled in a fresh garlic butter and coriander sauce, $19). For hearty appetites there's the mixed grill azteca (grilled sirloin or pork, with chicken, coriander shrimp, and chorizo, for two, $40). And definitely don't skimp on drinks, which are generous and good; margaritas run from $6 to $8, and the famous homemade sangria comes by the glass (small $4.25, large $5.25) or by the carafe (small $8.50, large $16.50).  —John Thompson
Eastern Standard
528 Commonwealth Avenue
617-532-9100
http://www.hotelcommonwealth.com/dining/eastern-standard.html
$$$$
Breakfast:
Monday-Saturday, 7-10 a.m.
Sunday brunch, 10 a.m. to 3 p.m.
Lunch:
Monday-Saturday, 11:30 a.m.-3 p.m.
Sunday, 11:30 a.m. to 3 p.m.
Dinner:
Sunday-Thursday, 5-11 p.m.
Friday and Saturday, 5 p.m.-midnight
Note: Call for reservation indoors. Outdoor dining is on a first-come, first-served basis.
Eastern Standard in Kenmore Square successfully brings its stylish atmosphere outdoors for the summer with cushioned wicker chairs, marble-topped tables, wrought-iron railings, and shrubbery. The effect is to make al fresco diners feel just as much a part of the sophisticated 1920s bistro experience as those eating indoors.
Inside, the Hotel Commonwealth's in-house brasserie resembles a train station from the days when flappers held court and jazz was king. Historic photos, dark wood floors, and red leather booths foster a soothing ambience under expansive ceilings and globe chandeliers.
While Eastern Standard has the vibe of a trendy establishment, its menu runs the gamut, as does its clientele, from sports fans in T-shirts to men in suit jackets.
Pick on an assortment of complimentary breads with an accompaniment of pickled cucumber and red onion salad as you look over the menu. For appetizers ($6-$14), choices range from offal and roasted bone marrow to clams and oysters ($2-$5) from the raw bar. If you're heading to a Red Sox game, grab a grilled cheese sandwich or a juicy burger on toasted brioche with crispy thin fries (under $12). Out with business clients or on a date, choose a tasteful meal of seared halibut, pasta bolognese, veal schnitzel, or roast chicken ($20-$30).
Desserts ($7) include such favorites as Boston cream pie, crème brulee, and chocolate mousse, as well as a new twist on the banana split — with homemade brown sugar ice cream.
Eastern Standard has an extensive beer and wine list, classic cocktails, and retro martinis, making it the spot for drinks after work or for watching the game on either of two flat-screen televisions behind the massive marble bar. —Meghan Noé
Sunset Cantina
916 Commonwealth Avenue
617-731-8646
$
Lunch, dinner:
Monday-Friday, 11:30 a.m.-2 a.m.
Saturday, 11:30 a.m.-1 a.m.
Sunday, 11 a.m.-2 a.m.
Sunset Cantina — like its sister restaurant, Sunset Bar and Grill in Allston — is known for its beer selection. With Agganis Arena practically across the street, it's also convenient for grabbing a bite to eat before a sporting event. But what about the food and the outdoor dining ambience?
Both are excellent, especially considering that the menu is specifically designed to be beer-friendly, and the sidewalk tables offer views of traffic-choked Commonwealth Avenue.
The outdoor area seats about 15 diners under umbrellas, and music (classic rock at a recent weekday lunch) nicely offsets the clatter of Green Line trolleys. The service is outstanding, the Tex-Mex menu is gargantuan, and the portions are adequate. For beer drinkers, there are 38 taps, and margarita aficionados can choose from an abundance of tequila brands.
As at Sunset Bar and Grill, there are plenty of appetizers to choose from. The raspberry swordfish sticks ($8.95) were tasty. Entrées are paired with suggested beers on the menu, and the Pilsner Urquell, a Czech classic, did complement the shrimp ravioli ($9.99) perfectly. Who would have thought that the sharp bite of such a bitter beer would soften with a meal of pasta, seafood, and peppers?
Sunset serves just about everything under the sun, from ribs to golden ale barbecue turkey tips to three kinds of peanut butter sandwiches. I've never been disappointed with the food here — not bad for a beer drinkers' mecca. —Brian Fitzgerald
Petit Robert Bistro
468 Commonwealth Avenue
617-375-0699
http://petitrobertbistro.com/
$$$
Lunch, dinner:
Daily, 11 a.m.-11 p.m.
On the outdoor patio at Kenmore Square's Petit Robert Bistro, a mile from the center of campus, a young man in striped seersucker pants is telling his date about his love for both hip-hop and yachting, two older women are toasting to their (absent) husbands, and a table of very young professionals are explaining, in detail, why they wish to send back their bottle of chardonnay.
Opened in 2005, Petit Robert offers affordable bistro-style dining designed to appeal to a variety of tastes and budgets, and as a result, both the menu and the clientele are eclectic. Appetizers include both vegan paté and seared foie gras, and all the dinner entrées are priced between $13 and $20. The restaurant features a full bar, plus beer and wine at an astonishingly low markup. Wines are available by the glass and by the bottle, which starts at $19.
Reservations are accepted at the five-table outdoor patio, although on a recent weeknight, (with the Red Sox in town) several diners were seated there immediately. The space is well below sidewalk level, which provides a nice buffer from the noisy street, but people-watching is limited to the diners at other tables. They're seated at close quarters, so it's easy to eavesdrop.
The menu includes the French standards steak frites, rabbit moutarde, and coq au vin, and heads into more adventurous territory with tripe provençale and sautéed calf's liver. The vegetarian options are few — a surprise, considering the vegan appetizer and an unexpectedly good dessert of tofu marinated in rhubarb. But since the restaurant bills itself as a "bistro and pastry bar," it would be a shame to miss out on desserts like the île flottante, which is meringue in crème anglaise, and gateau Petit Robert, a cake that comes with a chocolate Eiffel Tower. —Jessica Ullian