COM Professor John Carroll receives local Emmy
COM professor John Carroll received a local Emmy for his work on WGBH's program Beat the Press.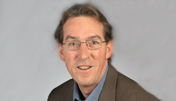 John Carroll, an assistant professor at the College of Communication, recently won an Emmy for Program Writing from the Boston/New England chapter of the National Television Academy. Although Carroll already boasts a collection of Emmys, he says that this year's award was just as thrilling as the first. "It's always a surprise," Carroll says. "My theory is that you always assume you're going to lose, so every time you win, it's gravy. I'm thrilled to get an Emmy any time. I never take that for granted."
This year's Emmy comes for his work as a producer and panelist on WGBH's program Beat the Press, the Friday edition of its nightly show Greater Boston. The show, which airs on Fridays at 7 p.m. on WGBH 2, explores issues and trends in the media, presenting the facts of an issue and then considering their significance in a roundtable discussion.  
Carroll has worked at WGBH for more than eight years, moving through the ranks to become Beat the Press's executive producer in 2001. Last year, he stepped down from the position to accept an invitation to join the Boston University faculty as an assistant professor of mass communication. He now divides his time between teaching and on-air work and feels that his two careers complement each other.
"My work tracking trends in news media week by week for the show intersects with the overall analysis of contemporary mass media in the courses I teach," says Carroll. 
While at WGBH, Carroll has received several prestigious national awards, from the Associated Press and the National Press Club as well as a series of Emmys. As a freelance writer, he has written for the Boston Globe, Adweek, and several National Public Radio programs, among them On the Media, Marketplace, and All Things Considered.