Chelsea Honors Associate Provost Doug Sears
Former school superintendent was a "role model" for struggling school district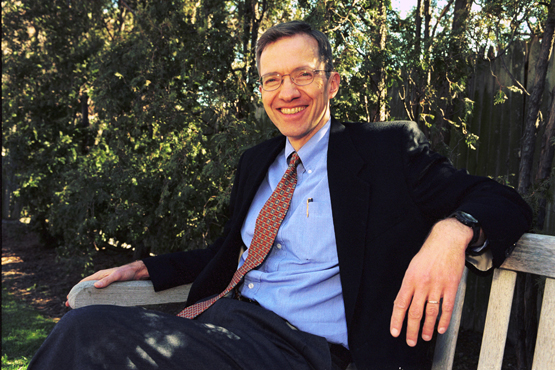 For five years, Douglas Sears was the superintendent of the Chelsea Public School system. But to many people in Boston's neighboring city, he was just Doug — "not out of failure to recognize the stature he has amassed in his professional and academic endeavors," a recent citation from the city reads, "but in deference to his unassuming style and wide acceptance into the community."
Sears, a former dean of the School of Education and now an associate provost at BU, became involved with the Chelsea schools through the BU/Chelsea Partnership, a 1989 collaboration that gave BU a contract to manage Chelsea's schools in an effort to revitalize the troubled system. Now, as the partnership approaches the end of its 20-year agreement, the city has recognized Sears in its annual All-Chelsea Awards, naming him Contributing Stakeholder of the Year at a November 15 ceremony. The stakeholder award goes to someone who is not a Chelsea resident, but nonetheless has had an impact on the community.
"Doug's been a champion for Chelsea school kids and, equally as important, he's been a role model for professionalism in a community that was in need of role models during an important period of new formation," says Jay Ash, Chelsea city manager. "His contributions to education and general municipal management have been significant here."
Previous Contributing Stakeholder winners include the partnership itself in 2002 and President Emeritus John Silber in 2003.
Sears agrees that the BU/Chelsea Partnership has been a great success for the system, citing the new buildings, curricula, and policies that have been put in place over the past two decades, but deflects credit to the University itself and the program administrators who have kept the partnership running for so long. 
"The University provided a lot of logistical backup and know-how to make this happen," Sears says. "I'm the guy who gets to enjoy some of the credit for that, but it's really a University accomplishment."
Sears began his tenure as superintendent in 1995, and over the course of the next five years played a critical role in bringing up the district's MCAS, SAT, and AP test scores, reestablishing art and music programs throughout Chelsea's schools, and improving basic operations such as budgeting, security, and transportation. High school graduation rates in the district climbed steadily during that period, jumping from 84.8 percent in 1996 to 97.6 percent in 2001.
The partnership contract will expire on June 30, 2008, but Sears emphasizes that BU has no intention of abandoning the school district after so many years of support. "We have a lot of accumulated experience and institutional memory," he says. "We're not going to walk away. We need to be there right at the end of the phone line for Chelsea."

Jessica Ullian can be reached at jullian@bu.edu.