Champion for disability rights in the workplace
Alan Labonte won a landmark lawsuit against the law firm that fired him because of a disability.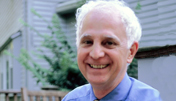 In July 1991, Alan Labonte knew something was wrong when he started frequently tripping while walking to work. A neurosurgeon diagnosed multiple sclerosis, a debilitating autoimmune disease. In January 1992, just six months later, he was fired from his job as executive director at the Boston law firm Hutchins and Wheeler. Why would a firm dismiss an employee with over 20 years of experience in professional services leadership? The firm had decided that Labonte (GSM'05), now a senior research associate at the School of Management, wasn't performing up to speed anymore.
Labonte's experience at Hutchins and Wheeler led to some very positive outcomes —and caused him to champion the rights of all working adults with disabilities. The experience also provided material for his recently published book A Million Reasons, which chronicles the story of his job loss at Hutchins and Wheeler and the lawsuit that ensued.
"It's a great story, a story of losing everything to find everything," says Labonte. "In the space of six months, I lost my health, my father, and my job; I literally went from the 31st floor at a prestigious law firm to the unemployment line at ground zero."
Labonte turned down a $3 million settlement offer from the firm, in part because the deal required him to remain silent about his experience. Most important, he wanted to caution employers that they need to make reasonable accomodations for people with disabilities or face the legal consequences. He continued his long and bitter battle in the court system all the way to the Massachusetts Supreme Court, where he won the case, receiving a reduced monetary compensation.
"[A lesser amount] was worth it to me because the case set an important legal precedent for people with disabilities; it was important to me that the dispute was decided by the courts based on its merits," says Labonte. "I can't put a price on the value of human suffering."
He enjoys his job at SMG, where he has never encountered discrimination, Labonte says. He joined the BU faculty in 1993 until 1996, and was reappointed in 2005, and has only positive remarks about his colleagues at the University: "[It's] more like a second family than an employer," he says. "I plan to continue my studies, research, teaching, and intellectual growth."