Bostonians and tourists rediscover Boston Harbor Islands
A natural and historic treasure grows in popularity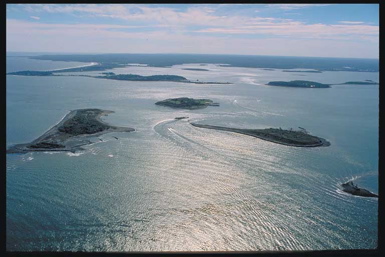 "Why go see the Bay of Naples when you have seen the Boston Harbor and its islands?" asked 19th century theologian and author James Freeman Clarke, who lived in Boston's Jamaica Plain neighborhood.
Clarke appreciated the beauty of islands at a time when they were a recreational mecca. For many years, visits to the islands dropped off, but nowadays, with more than 150,000 visitors a year, the Boston Harbor Islands are once again becoming a "must visit" — especially after the area became a unit of the National Park System in 1996.
Reachable with frequent ferry and water taxi service, the islands are a haven for Bostonians and tourists who walk the wooded trails that lead to scenic vistas, picnic sites, and centuries-old foundations and forts. Beachgoers flock to the islands, as well as hikers and occasional campers. Boats leave Boston's Long Wharf to 39-acre George's Island, the central point of the Boston Harbor Islands National Park Area — and the site of Fort Warren, where Confederate soldiers were imprisoned — every hour from 9 a.m. to 5 p.m. on weekdays, and on the half-hour until 5:30 p.m. on weekends. Tickets are $10 Monday to Wednesday and $12 Thursday to Sunday.
Free water taxi trips are available from George's Island to Great Brewster and other islands. For more information, click here. The National Park Service offers daily tours, as well as programs about shipwrecks, the military history of the area, and lectures about the islands' ghosts, including "The Lady in Black," a Confederate prisoner's wife who is said to have been hanged for trying to help her husband escape from Fort Warren.
"The 34 islands have been Boston's best-kept secret for so many years," says Bruce Berman, a Metropolitan College instructor who is teaching two courses about the harbor and its islands this summer. "But people have rediscovered a local and national treasure." The trigger for the area's resurgence was the $4.5 billion cleanup of Boston Harbor, which took place from 1986 to 2000 and sparked a return of not only people but also wildlife, including seals and porpoises, and the occasional humpback whale. Berman, communications director for Save the Harbor/Save the Bay, teaches From Periwinkles to Pilot Whales: Investigation on Boston Harbor and Massachusetts Bay, as well as Politics, Public Relations and Public Policy: The Boston Harbor Cleanup. "The islands are historic, natural, and geologic wonders," he says.
Islands open to the public include Bumpkin Island, where wildflower-lined trails lead visitors to the remains of a stone farmhouses and a children's hospital, Grape Island, where a Revolutionary War battle was fought, and Boston Light on Little Brewster Island, the nation's first light station. Other visitor favorites are Worlds's End, Deer Island, and Castle Island, which are actually peninsulas. Located in Hingham, the landscape of World's End was designed by famous landscape architect Frederick Law Olmstead. Deer Island, the site of the new wastewater treatment plant, is home to a new 60-acre park and a favorite spot to catch flounder and striped bass. Castle Island, in South Boston, is the site of Fort Independence. Edgar Allan Poe was stationed there as a solder in 1827, and an earlier fort on the site housed 400 Revolutionary War prisoners.
Overnight camping is allowed on several islands, including Grape, Bumpkin, Lovells, and Peddocks, from June until early September.
This summer marked the opening of Spectacle Island along with its visitor center, marina, two beaches, and five-miles of walking trails that lead to the crest of a 157-foot-high hill, which offers panoramic views of the harbor and Boston's skyline.
For more information on the Boston Harbor Islands, click here.