Boston magazine highlights Pinsky in October issue
Robert Pinsky, former U.S. poet laureate and CAS professor, is one of Boston's most brilliant brains.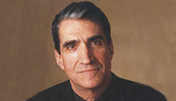 How do you write a poem? Robert Pinsky, a College of Arts and Sciences professor of English and a former U.S. poet laureate, answered that difficult question in the October 2006 issue of Boston magazine in a way that makes writing poetry seem easy.
"Play with the sounds until the meanings get hot," he says.
Featured in the magazine's special issue about the people who make Boston "the smartest city on the planet," Pinsky founded the Favorite Poem Project in 1997 during the first of his unprecedented three terms as poet laureate to encourage Americans to celebrate and explore their love of poetry. Since then, the project — now directed by BU poet Maggie Dietz (GRS'97) — has produced three anthologies and sparked more than 1,000 readings around the country.
"By reading poems we love aloud, we can learn how much pleasure there can be in the sounds of words," Pinsky says. "It's as though saying the words of a poem aloud make one feel more able, more capable than in ordinary life. You enter a different state."
The renowned poet, critic, and translator is the poetry editor of Slate and has contributed to The Nation magazine and PBS's NewsHour with Jim Lehrer. Among Pinsky's books of poems are Jersey Rain (2000) and The Figured Wheel: New and Collected Poems, 1966-1996 (1996), which received the Lenore Marshall Award and the Ambassador Book Award of the English-Speaking Union and was nominated for the Pulitzer Prize in poetry.