Board names three new trustees and an overseer
Business leaders will lend talents to University boards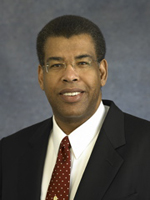 Charged with helping to chart a course for Boston University's future, business leaders Richard Cohen, Cleve Killingsworth, and Allen Questrom were recently named to the Board of Trustees, the governing body of the University. In addition, James Apteker was appointed to the Board of Overseers, an advisory group dedicated to supporting and advancing BU's mission.
Cohen (SMG'69), Killingsworth, Questrom (SMG'64), and Apteker (SHA'88) "have demonstrated the extraordinary leadership and commitment to excellence for which the University is known globally and nationally," says Trustee Chairman Alan Leventhal. "Each is an outstanding addition to the Board of Trustees and I look forward to working with them. I also look forward to collaborating with James Apteker, whose exceptional record of public service and dedication to his alma mater will provide great strength to the Board of Overseers."
Another addition to the Board of Trustees is Julie Sandell, an associate professor and vice chairman of the School of Medicine's department of anatomy and neurobiology, who became an ex officio voting member of the Board at the start of the fall semester as the new chairman of the BU Faculty Council.
Sandell runs a research lab to study anatomical remodeling in human retinas from patients with retinitis pigmentosa (RP) as part of a large Boston-based group developing a retinal implant to restore visual function in patients with RP. She earned a Ph.D. in neuroscience from MIT and completed postdoctoral training at Massachusetts General Hospital before joining the MED faculty in 1991.
Cohen is president of Capital Properties, a large real estate management and development company with offices in Boston, New York, and Washington, D.C. He delivered the convocation address to the School of Management graduates last May.
Killingsworth was appointed president and CEO of Blue Cross and Blue Shield of Massachusetts in July 2005. He earned a B.S. from MIT and a master's in public health from Yale University. Prior to his work at Blue Cross, he was president and CEO of Health Alliance Plan in Detroit, one of Michigan's largest and most experienced managed-care companies.
Questrom is the former chairman and CEO of J. C. Penney Company, Inc. A trustee from 1992 to 2002, he began his retail career in 1964 and has held the post of CEO at Federated Department Stores, Neiman Marcus, and Barney's New York.
Apteker is the owner of Longwood Events, a Boston-based full-service event planning and management company that operates special event venues in Massachusetts and Rhode Island. He received a BU Young Alumni Council Award in 2003 and serves as a member of SHA's Board of Directors.
The 35-member Board of Trustees provides oversight of, and is responsible for, the University's academic, financial, and business affairs, and assists in long-range planning and development. The full board meets at least three times a year, elects the president of BU, and reviews the strategies and performance of the University's administrative team. Its members, who staff 12 committees, including executive, academic affairs, athletics, and development and alumni relations, are elected to terms of one to three years and are limited to 14 consecutive years of service.
Established in 2004, the Board of Overseers meets twice a year and serves as an advisory body. Its members consult on special projects, assist with fundraising and community relations, provide advice and counsel, and recommend candidates for membership to the Board of Trustees. Members are selected on the basis of their individual interests, special expertise, ability to assist in fundraising, vision, dedication to the advancement of BU, and willingness to participate in the life of the University. Overseers serve terms of one to three years, which are renewable at the discretion of the trustees, and are subject to a limit of 10 consecutive years of service.
Elected to the Board of Trustees last spring was Columbia University Provost Jonathan Cole, who is also dean emeritus and John Mitchell Mason Professor at Columbia. Joining the 32-member Board of Overseers last spring were Noubar B. Afeyan, managing partner and CEO of Flagship Ventures, in Cambridge, Mass., Fred Bronstein (CFA'78), president and CEO of the Dallas Symphony Association, Thomas Fiedler (COM'71), vice president and executive editor of the Miami Herald newspaper, and Richard Reidy (SMG'82), president of Data Direct Technologies, Inc., in Bedford, Mass.