Big Blue vs. the Scientist
SPH professor tangles with IBM over cancer rate research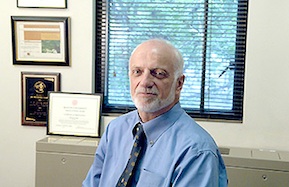 It was the study IBM didn't want anybody to see.
Beginning in 2002, epidemiologist Richard Clapp, a School of Public Health professor of environmental health, studied the death records of nearly 32,000 former IBM employees who died between 1969 and 2001 and found elevated rates of several cancers — including cancer of the brain, kidney, and pancreas.
But when Clapp (SPH'89) tried to publish his findings, he fell into a legal tangle with Big Blue that kept the study out of the public eye until last month, when it was published by the peer-reviewed online journal Environmental Health.
"Mortality was elevated … among workers more likely to be exposed to solvents and other chemical exposures in manufacturing operations," Clapp concludes in the paper.  Nevertheless, he emphasizes that his findings make no links between cancer and any particular chemical used by IBM.
The long road to publication stems from the fact that Clapp's research was born out of litigation. He conducted his study while acting as an expert witness for the plaintiffs in one of more than 200 recent lawsuits filed against IBM by people claiming they were poisoned by carcinogenic chemicals used in the company's manufacturing facilities. Clapp received his data, employee mortality records and work histories from IBM, through pretrial court orders. 
Although Clapp testified over two days and was deposed by IBM lawyers about his findings, the judge did not allow the study to be introduced as evidence, ruling that Clapp's report was irrelevant to the plaintiffs' case because it didn't provide evidence that any particular chemical was causing cancer. In February 2004 a jury found in favor of IBM.
Even before the verdict, Clapp decided to try and publish his research on IBM, and submitted his study to the guest editor of Clinics in Occupational and Environmental Medicine for a special issue on the electronics industry.
But the journal's publisher, Netherlands-based Elsevier, declined to publish the research. The guest editor, Joseph LaDou, a professor of medicine at the University of California, San Francisco, said that Elsevier was bowing to pressure from IBM lawyers who warned that publication would violate a court confidentiality agreement. Although both Elsevier and IBM deny that claim, LaDou persuaded the other contributors to boycott the special issue.
"I have no idea what happened [at Elsevier]," says Clapp. "I can imagine somebody in their legal office saying, 'Oh my God. This is a hot potato. Let's stay away from this.' "
After the Clinics brouhaha, Clapp hired a lawyer to advise him on the legality of publishing his work. The lawyer noted that IBM had attached the study to a transcript of Clapp's deposition and filed it with the court clerk, thereby "waiving any right to confidentiality." Finally, the judge in another suit against IBM where Clapp had been approached to be a witness (the case settled pretrial) ruled that there was no legal bar to publication of the research, and Clapp submitted the study to Environmental Health.
According to IBM spokesperson Chris Andrews, Clapp's research is "not credible," because it drew on an "incomplete [human resources] database [that] did not contain information that could be used to draw scientifically valid conclusions."
"The fact that a judge decided to allow this study to be published does not change our position on it," says Andrews. "It is and was a litigation-driven study and was not conducted for any purpose other than to support litigation, which has long since concluded."
Clapp disagrees. "The whole point of these studies is to see if there are illnesses that could be prevented," he says. "It's about workers' health."
Although Clapp has served as an expert witness in other court cases, he says this is the first time he's faced pressure to keep his research under wraps. The demands for secrecy about scientific research used in court depend on many factors, according to Michael Baram, a School of Law professor, who specializes in environmental and occupational health law.
For instance, evidence and other court records in cases that settle without going to a jury are routinely sealed by the court. While the dockets of cases decided by a jury are generally considered public records, Baram says that well-financed defendants in environmental cases often use pretrial motions to wear down plaintiffs, contesting the validity of all scientific evidence and requesting confidentiality agreements on data and evidence to protect "trade secrets," or even, if working under government contract, "national security."  
Plaintiffs' attorneys are often working on a contingency basis, he says, "so the pretrial proceedings become onerous for plaintiffs because so much of their attorneys' time is needed contesting these motions."
IBM and the rest of the semiconductor industry are no strangers to the type of lawsuit that spawned Clapp's study. While the industry has automated in recent years, allowing machines to do jobs that previously required human hands, hundreds of former employees have recently brought suit against the industry, claiming that the various metals and solvents used in microchip manufacturing had made them sick. Indeed, the claims are so numerous that in 1999 the Semiconductor Industry Association created a Scientific Advisory Committee, and has put out a call for researchers to review data on thousands of former semiconductor workers to "determine whether there is an increased risk of cancer related to working in such facilities."
Clapp will not be among those researchers. In addition to his teaching duties, he is currently working on a study of the potential neurological effects of pesticides used in South Africa and on a federally funded project to improve communication between scientists and communities that are part of environmental health studies. Nevertheless, Clap thinks the health effects of semiconductor manufacturing deserve more investigation.
"It's definitely an understudied industry," he says.