Agganis rocks in rankings
Ticket sales come in eighth worldwide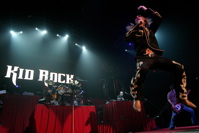 What do hockey Terrier goaltender John Curry (CAS'07), Oscar the Grouch, and Kid Rock have in common? All three, along with many other performers and athletes, have helped Agganis Arena earn a number-eight international ranking among midsized arenas, according to biannual figures from the magazine Venues Today.
Hosting 36 events between November 15, 2005, and May 15, 2006, the arena grossed almost $3 million and drew 144,312 spectators. The trade publication, which caters to administrators of public assembly facilities, provides monthly and midyear rankings for venues based on ticket sales. In the category of facilities with 5,001 to 10,000 seats, Agganis Arena was in good company: ranking first and second, respectively, were Radio City Music Hall and the Theater at Madison Square Garden.
Such success wasn't entirely unexpected when the arena first opened in January 2005, says Peter Smokowski, associate vice president for administration in the Office of the Executive Vice President. "Boston is a very vital marketplace, and there was a demonstrated need in the city for a midsized venue," he says. "Building the arena made sense, especially because we wanted to upgrade our athletics facilities and our hockey program. Last fall the team hosted Denver and Colorado College, which were well-attended games, and BU had a terrific winning streak over the winter." Indeed, the Terriers' 11 consecutive victories outshined all Division I hockey teams last season. Of the 18 regular-season home games, 14 were sellouts.
"First and foremost, Agganis Arena is the home of Terrier hockey select Terrier basketball games, and many BU community related events" says Amy Brown, the facility's general manager, "but it also has diverse and varied programming."
The arena has consistently booked major bands, family events, and professional functions. With the capacity of 6,300 for hockey games swelling to more than 7,500 for concerts, the attendance figures add up quickly. In April alone, there were two double-bill sellouts: Black Eyed Peas and the Pussycat Dolls, and Franz Ferdinand and Death Cab for Cutie. The Strokes also sold out, on April 25. That same month, two of eight Sesame Street Live shows filled the arena to capacity. In May, Andre Rieu and the Johann Strauss Orchestra had a full house, and all available tickets for comedian David Chappelle's August 23 show were gone in 12 minutes.
"A lot of artists want to perform in a venue of this size," says Brown. "Plus, we have a great team of experienced professionals who are able to support the performers' and their productions' needs." She notes that Agganis is one of the smallest venues in its category on the Venues Today top-20 list. "Our success is based on the quality and quantity of shows," she says.
Besides sports, BU events have included convocation ceremonies and a Super Bowl party attended by more than 3,000 students. Last year Agganis hosted 117 smaller events, Smokowski adds, "ranging from departmental meetings and dinners to retirement parties, bat mitzvahs, and bar mitzvahs. We also have our first wedding coming up in December. It's an incredibly versatile facility."
Upcoming performances include Widespread Panic on September 22, MixFest on September 30, Iron Maiden on October 6, Paul Simon on October 22, Comics Come Home XII on October 28, Barenaked Ladies on November 1, Bob Dylan and his band on November 11 and 12, and Australian Pink Floyd on December 15. The BU men's hockey regular season home opener is on Saturday, October 14, when the Terriers play RPI.