Tips for a healthy Thanksgiving
Enjoy future Thanksgivings by staying healthy with recipes from BU's Joan Salge-Blake.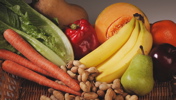 Thanksgiving is a time to enjoy family, friends, football games, and most important — food. The holiday gives us an excuse to indulge and forget about the diet we've been sticking to all year. Thanksgiving is one of the highest calorie-consuming days of the year, with Americans eating over 690 million pounds of turkey.
But holiday meals, including Thanksgiving, do not have to be high in calories or fat, says Joan Salge-Blake, a clinical assistant professor of nutrition at Sargent College of Health and Rehabilitation Sciences. You can still enjoy your favorite holiday foods without having to loosen your belt buckle afterwards.
"It is possible to still eat healthy during the holidays," says Salge-Blake, who recommends eating the traditional main dishes, such as turkey, but choosing healthier appetizers, side dishes, and desserts. "By allowing yourself to eat the traditional main courses, but substituting your side dishes, you can still follow family tradition, but also add a new healthy twist on your holiday meals."
Salge-Blake suggests the following nutrition tips to decrease the fat and the calories in your favorite side dishes and desserts:
•