Nobel Peace Prize winner to honor Martin Luther King
John Hume will give keynote lecture on January 16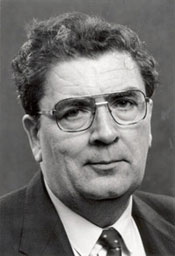 When the Boston University community gathers to commemorate Martin Luther King, Jr., Day on January 16, students, faculty, and staff will get a global perspective on the civil rights leader's power and legacy.
John Hume, a former member of parliament in the United Kingdom, and cowinner of the 1998 Nobel Peace Prize for his efforts to bring peace to Northern Ireland, will speak at the University's January celebration, discussing how King's philosophies affected his own peacekeeping work. In his Nobel Lecture, Hume quoted King (GRS'55, Hon.'59), whom he called "one of my great heroes of this century," concluding with the words, "We shall overcome."
"We want to look at a connection between the American civil rights movement and the global struggle for human rights," says Dean of Students Kenneth Elmore, one of the event coordinators. "I don't think people realize how much Dr. King thought about international issues of human rights in his thinking about what happened here. He took some pages from Gandhi, he spoke about some of the international freedom movements happening in the world, he spoke about the post-Colonial democratic movements throughout Africa, he spoke about Vietnam."
Hume, a former leader of Northern Ireland's Social Democratic and Labour Party, shared the Nobel Peace Prize with David Trimble, also an MP and the leader of the Ulster Unionist Party. The two brokered the Good Friday Agreement, which created a more representative system of government within Northern Ireland and established both Equality and Human Rights commissions.
"The Good Friday Agreement now opens a new future for all the people of Ireland," Hume said in his Nobel Lecture. "A future where all can rejoice in cherished aspirations and beliefs and where this can be a badge of honour, not a source of fear or division."
Hume will speak at 1 p.m. in the George Sherman Union's Metcalf Hall. Student participants will read some of King's writing as part of the event, and memorabilia from the King archives in the Howard Gotlieb Archival Research Center will be on display throughout the GSU.
"I would encourage anyone to really be thinking now about discussion sessions they could have in January or community service events they could hold," Elmore says. "To remember not only the importance of Dr. King in our lives, but to remember that Dr. King was part of the Boston University family."
Learn more about Hume and listen to his Nobel Lecture at this BBC Web site.