Leslie Epstein Fellowship Fund in Creative Writing honors program's director
The $50k gift from an alumnus addresses the program's need for fellowship aid for graduate students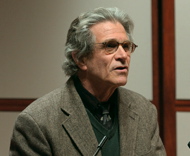 Leslie Epstein is a writer of significant American fiction, says William Holodnak. Indeed, his novels have received wide acclaim, from his third, King of the Jews (1979), published in 11 languages and regarded as a classic of Holocaust fiction, to San Remo Drive (2003), which the Los Angeles Times calls "wholly compelling."
But Holodnak (GSM'76) also admires Epstein for building and directing the Graduate School's Creative Writing Program over the past 27 years.
In appreciation of Epstein's work, Holodnak recently made a $50,000 gift to help establish the Leslie Epstein Fellowship Fund in Creative Writing.
"The number of great writers who have come out of that program is staggering," says Holodnak. "Its students and faculty are excellent, and I wanted to give it a much-needed funding boost."
The program boasts an award-winning faculty, including poet and playwright Derek Walcott, winner of the 1992 Nobel prize in literature, former U.S. Poet Laureate Robert Pinsky, poet Rosanna Warren, who was recently elected to the American Academy of Arts and Letters, and 1999 National Book Award winner Ha Jin.
Holodnak and Epstein point out that Creative Writing Program alumni steadily garner their own laurels. "In 1999 alone, graduates of the program swept every major literary award in the country," says Epstein. "Ha Jin, who went on to join our faculty in 2002, won the National Book Award and the P.E.N./Faulkner Award, Jhumpa Lahiri won the P.E.N./Hemingway Award and a Pulitzer Prize." There were local awards that year as well, among them an Independent Reviewers of New England "best new play" for Observatory, by Kate Snodgrass (GRS'90), artistic director of BU's Boston Playwrights' Theatre, who teaches playwriting.
"That was a great year for us," says Epstein. "Of course, it was always a fine program, but that was when the larger world began to see what we've always known." The stream of accolades continues to flow: last spring Jin (GRS'94) won another P.E.N./Faulkner Award, for his novel War Trash, and Lahiri (GRS'93, UNI '95,'97) is getting rave reviews for her first novel, 2003's The Namesake.
To increase support for the program — and celebrate its achievements —Holodnak will host a gala reception at his home in Wellesley, Mass. on September 24. "William has been generous," says Epstein. "He knows our biggest need is fellowship aid for graduate students. The competition among universities for this kind of funding is intense."
"Leslie is modest and self-effacing enough to be uncomfortable being in the limelight of having a fellowship named after him," Holodnak says, "but he deserves some credit."
Lili Holodnak (GRS'03), a graduate of the program and Holodnak's daughter, agrees. "Leslie has provided uncommon inspiration in my life as both an artist and teacher," she says. "Here's a man in simultaneous possession of elevated taste, humanistic values, and a sense of humor."
Epstein had encouraged her to apply to the Creative Writing Program after he read her novel manuscript. "Like many of our graduates, Lily is trying to make her way as a writer," says Epstein. "I have a hunch she will."
Says her father, founding president of the executive search firm J. Robert Scott, "In the Boston cultural landscape, where there is so much richness, the Creative Writing Program doesn't get enough attention. This is a jewel of a program that deserves publicity and support."