Katherine Kennedy is a Diva Uncorked
Director of the Howard Thurman Center Katherine Kennedy is also a Diva Uncorked!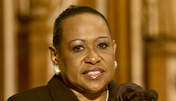 Director of the Howard Thurman Center Katherine Kennedy and her ten-woman wine appreciation club "Divas Uncorked" made the list of " urbane, sophisticated, witty, personal and professional achievers" this year in Boston Magazine's December 2005 list of the 40 Most Fabulous Bostonians.
The women have received national attention for their unique approach to a wine appreciation organization. According to the their website, www.divasuncorked.com, the exclusively African-American group hopes to "make wine more approachable to women and people of color by breaking down the intimidating image of the wine world." The ten "divas," of diverse professions, meet monthly to learn more about wine by sampling selections from across the world. They also take trips to wine havens like Napa and Sonoma, Calif. to visit local vineyards.
Kennedy, who is also an academic administrator at the University, earned a Pulitzer Prize in journalism for covering Boston's busing crisis in 1974.