Friedman selected as White House Conference on Aging delegate
SDM's Paula Friedman selected as White House Conference on Aging delegate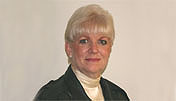 Paula K. Friedman, SDM's associate dean for administration, professor of geriatric dentistry, and director of Geriatric Dentistry Program, last month was selected as one of 1,200 delegates to the 2005 White House Conference on Aging.
The Booming Dynamics of Aging: From Awareness to Action is the theme of this year's conference, which will be held December 11 to 14 in Washington, D.C. It is the first conference to grapple with the issue of the aging Baby Boomer population.
"It is an honor to have been selected by the White House for this important role," says Friedman, adding that she and other delegates will "help shape national public policy recommendations in how to meet the needs of our aging population in the next decade and beyond."
White House Conferences on Aging have been held once each decade since 1961. Conference delegates' recommendations are passed along to the president and to Congress, who use the ideas to formulate national aging policy.