Collins makes Scientific American list of science and tech leaders
Jim Collins made Scientific American's list of top 50 science and tech leaders.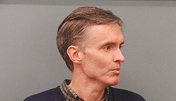 James Collins, a College of Engineering biomedical engineering professor, has been named one of the top 50 science and technology leaders of 2005 by Scientific American magazine. The list will appear in the December issue, which hits newsstands November 22.