CNN's Sid Pike previews Thursday's Conversations at COM
Global news network pioneer put it in writing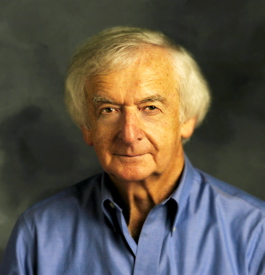 In the 1970s, Sidney Pike began working with a little-known television station owner named Ted Turner, who was trying to harness the potential of Atlanta's UHF station. Pike remained with Turner for 22 years and eventually became the president of CNN International Special Projects, helping build CNN into the country's first 24-hour news network. Pike's memoir, We Changed the World: Memoirs of a CNN Satellite Pioneer, was published this month; he will discuss the book and his career on Thursday, October 20, at 6:30 p.m. in the COM Auditorium. The event is part of the COM Distinguished Lecture Series.
Why did you want to write this book?
I knew something had to be said about what was done at CNN over the years. There were 12 books written about Ted Turner, and most of them really didn't have a handle on what was going on. I'm a prolific memo writer, and I had a lot of my notes from when I was working in the field, so I put it together. My book is the definitive book on the Turner empire.
What led you to leave Boston for Atlanta in the 1970s?
I probably never would have left Boston if fate hadn't dictated. I'd been in Boston for 17 years, 7 at WBZ-TV and 10 at WHDH, but there was a recession. I was one of the highest-paid guys, and they let me go. I had the opportunity to be the station manager of a newly purchased station in Atlanta, and I was with them for three and a half years. Then I went to work for Ted.
I saw no potential in CNN, because I didn't know that the Federal Communications Commission would ever make as revolutionary of a move as it did in 1976 [when independent stations were allowed to broadcast outside of their markets as long as they used legal technology]. When I went to work for Ted, I tried to avoid meeting him — I had a good reputation as a professional broadcaster and I didn't want to have anything to do with him because anyone dumb enough to buy UHF isn't someone you want to be around.
But we decided I would be a consultant. That was on a Wednesday; the next day he called me and said, 'You'd better come and start the meter running,' because his station manager had walked out.
You played a pivotal role in expanding CNN internationally. How did you bring it to other markets?
Ted tried to get CNN involved internationally simply because he needed to develop CNN; he was losing over $1 million a month. He had someone try for about a year, and he never made any agreements, so Ted asked me if I'd try it, and I decided to go around the Pacific Rim and introduce myself. The long and the short of it was that I came back with contracts for $6.5 million.
I had been working in television at that time for 22 years. I had learned how a weak UHF, like we were in Atlanta, could benefit from CNN, so I developed the same techniques with these other countries and their weakest stations. I drifted toward the underdogs.
What changes have you observed in global network news since your retirement in 1996?
It's mostly positive, because we're changing the world, bringing parts of the world out of the sixth or seventh century and forcing them to recognize the new world around them and be a part of it.
The worst thing is there are now three networks doing 24-hour news globally. [Two of them] do a separate news channel for international delivery, but [one] does not, and it dumps its domestic news onto global satellites and it is shown into countries that have no idea how to accept the news as Americans who watch it do: sometimes with a grain of salt. It tends to create a very negative image of America, which is totally out of proportion with reality.
What challenges do the news media face today?
Newspapers are going to weaken; they have been [weakening] on a constant basis over the last decade. I think it's the question of what direction the Internet's going to go that will decide what happens to newspapers. I don't think it affects CNN, at least not now, because it's part of the new age, as is the Internet, and at the moment I find that they're compatible.
What does Ted Turner think of your book?
I gave him a manuscript, which he proceeded to lose. His lady companion said she found it and read it and liked it very much.