Call BU's dietician. She's here for you.
Did you know that Dining Services has its own dietician?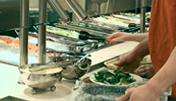 Royletta Romain, whose office is on the third floor of the George Sherman Union, works one-on-one with students discussing their specific dietary needs. She is available for consultations ranging from vitamin use and alternative sources of calcium for the lactose-intolerant to how a student-athlete can get more protein in his or her diet. To schedule an appointment, call 617-353-2990.