BU Information Center launches Web site
Visitors can chat online with a student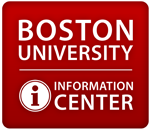 For more than 20 years, visitors and members of the BU community have relied on Mary Keane-Hazzard and her staff of students to answer all their pressing BU questions: How do I register for classes? Which T-stop do I need? Where on campus is the tile motif of a ship?
Keane-Hazzard, supervisor of the BU Information Center, is known in some circles as Mary Keane, the Info Queen. If she were a Web site, she'd look like this. The recently launched site is stocked with information from maps and directions to trivia and directories.
An important component of making the site useful for a generation of instant-messenger users, Keane-Hazzard says, is the live-chat function, where a visitor can talk online with a BU student between 9 a.m. and 5 p.m.
"People want real-time information about admissions, coming to the school, what to expect," she says. "It's the real lowdown instead of just leafing through a catalog."
The Web version of the Information Center was initiated this fall after four years of planning. The idea behind the site, says Amy Hook, director of campus information and visitor relations, is to collect and verify information and disseminate it all from one place. "It's hard to navigate such a large university if you don't know the lingo," she says. "We try to make it easier."
It's also more interesting. Sections of the site include "BU by the Numbers," and "101 Things to Do Before You Graduate," such as visit the Isabella Stewart Gardner Museum or eat at Mike's Pastry.
Keane worked at the Information Center for two years before taking over in 1983. Her knowledge of the University comes from being a student here, from working in the center, and from researching 20 years of requests.
A lost student once called from a cell phone trying to find the spot where a friend was waiting: someplace with the tile motif of a ship. Just before Keane-Hazzard dove for a file, she remembered it was the lobby of the Tsai Performance Center, "which was formerly known as Hayden Hall," she says. "Call it passer-by knowledge or just sweeping the cobwebs out."
There is little chance of any cobwebs appearing in the future. As the center continues to field questions, information is added and changed. "We're certainly a work in progress," she says. "We try to put it all together so that it's not a stagnant source. It changes as people ask more questions,"
Keane-Hazzard and her staff of students are available through the site, at www.bu.edu/infocenter, by phone, at 617-358-INFO, or by e-mail at askus@bu.edu.