Boston Expressionist David Aronson: a painter between worlds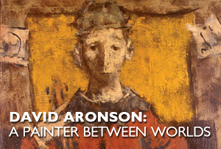 This story was published in the BU Bridge March 11, 2005.
The art of the Boston Expressionist movement of the 1940s has much in common with the European Expressionism that preceded it: the search for identity, perceptions of reality, and the role of the artist are favorite themes for both. But for the Boston Expressionists — among them CFA Professor Emeritus of Art David Aronson — another central element is the challenges they faced as children of immigrants trying to find a place in Boston society, and as young artists trying to establish themselves.
"They all struggled with who they were, and what their identity was about," says Judith Bookbinder (GRS'66,'88), author of the forthcoming book Boston Modern: Figurative Expressionism as Alternative Modernism. "Aronson's art is very much tied to this emotional struggle, and his art reflects that in a powerful tension between traditional images, religious images, and the kind of expressive individuality he achieves."
David Aronson: A Retrospective, an exhibition currently at the Boston University Art Gallery through April 3, explores the changing interests and ideas of Aronson, who at 81 remains one of Boston's best-known modern Expressionist painters and a key figure in the development of CFA's school of visual arts. The exhibition covers his entire career, delving into his work and themes from each decade since the 1940s and providing a detailed look at the artist who developed BU's challenging technique-based curriculum.
"He had a significant role here," says Stacey McCarroll (GRS'05), the director and curator of the gallery. "There's a very strong Boston University connection among the Expressionist painters, and it's pretty much through David Aronson."
Aronson, who was born in Lithuania and came to the United States at the age of six, grew up in Boston and studied at the School of the Museum of Fine Arts. He graduated in 1946, and remained at the MFA until 1955, when he was invited to Boston University to direct the new visual arts program at what was formerly the School of Fine and Applied Arts. Over the course of his 34 years at the University, Aronson developed the school of visual arts curriculum, established the BU Art Gallery, and was an active painter and sculptor. He retired from the University in 1989, but continues to produce new work.
The retrospective begins with his first painting, 1942's The Paradox, which he created as a student, and continues through 2001's The Young Cabalist. The works were selected by Aronson himself to showcase the variety of media and techniques he has used throughout his career. His early work, from the 1940s and 1950s, was done largely in oils and encaustic, an ancient painting technique using pigment mixed with hot wax. Later, he sketched in charcoal and cast sculpture in bronze, and his recent work is done in oil pastels.
Aronson's The Cellist was created using encaustic, an ancient painting technique using pigment mixed with hot wax. From the collection of Mr. & Mrs. Larry Kohn
The exhibition reveals Aronson's changing subject matter, which includes representations of both scholars and musicians, but primarily focuses on Biblical figures and themes. "His relationship to religion is really quite complex," says McCarroll. Aronson's parents were Orthodox Jews and he attended the former Hebrew College in Roxbury, but he broke with religious tradition by painting New Testament scenes early in his career. This presented some conflicts for him as a young artist, says Bookbinder, because the second commandment prohibits the creation of graven images. "Aronson, in a sense, felt that he was going against the second commandment by becoming an artist and making pictures," she says. "This was a real struggle for him."
Aronson has also said, however, that his New Testament works — such as Young Christ Disputing with the Doctors, a 1945 encaustic piece featuring a childlike Christ flanked by two equally youthful doctors — were a method of exploring the Christian themes often used in classical art. "He was painting religious themes to reinterpret the traditional themes through the history of art," says McCarroll.
While at the MFA, he continued to explore concepts from both ancient Christianity and ancient Judaism, and occasionally blended the two, as in 1949's Young Christ with Phylacteries, which depicts Jesus wearing Jewish prayer accoutrements. But in 1954 Aronson turned to Old Testament subjects with a series of paintings entitled Joseph and the Ishmaelites.
As his career progressed and he became affiliated with the school of visual arts at BU, Aronson continued to experiment with new subjects and materials. Throughout the 1960s he sculpted in bronze, frequently choosing lively, dynamic subjects such as musicians and dancers, and also drew in charcoal to learn more about the use of form and space. More recently, he has worked with pastels and oil pastels to create a variety of new figures and portraits, including 1997's Samson, a rendering of the Biblical warrior.
Aronson's relationship with the University has generated significant local interest in the retrospective. On Wednesday, March 16, the school of visual arts will demonstrate the encaustic technique used in Aronson's work, and on Thursday, March 24, Bookbinder will speak about Aronson's work and Boston Expressionism.
The appeal of Aronson's career is not surprising, considering his subjects, says Bookbinder. "I think his work has a great deal to say to people," she says. "Other people can identify with the nature of struggle and identity themselves."