Agganis lands figure skating showcase
Tickets go on sale Monday at noon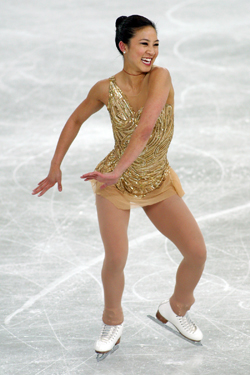 The United States Figure Skating Association has announced that Boston University's Agganis Arena will host this year's Marshalls U.S. Figure Skating Showcase, to be held on Sunday, December 11.
"That this is an Olympic year and many of these featured skaters are potential Olympians makes this even more exciting for the fan," says Amy Brown, general manager of Agganis Arena.
The winter invitational will change gears this Olympic year to feature former, current, and future Olympians competing in exhibition programs that will be broadcast live on ABC from 1 to 3 p.m. Members of the television audience will be the judges at this event, determining the final results by calling a 1-800 number to vote for their favorite performance.
"We have been working with the US Figure Skating Association for about two years trying to identify an event that would be a good fit with Agganis Arena," Brown says. "Based on our technical capabilities, our exceptional site lines, guest amenities, and our intimate seating arrangement, a live, nationally televised event with ABC is a perfect match for us here at Boston University."
Skating at Agganis Arena will be a star-studded field of five women and five men. The lineup in the women's field is expected to include five-time world and nine-time U.S. champion Michelle Kwan, two-time world silver medalist Sasha Cohen, 2005 Skate Canada champion Alissa Czisny, 2005 world junior bronze medalist Emily Hughes, and two-time Olympic champion Ekaterina Gordeeva.
Male skaters slated to compete in the event are two-time U.S. champion Johnny Weir, 2002 Olympic bronze medalist Timothy Goebel, world bronze medalist Evan Lysacek, two-time Olympian Michael Weiss, and Olympic champion Alexei Yagudin.
Tickets for the show go on sale Monday, November 7, at noon. Prices are $25, $50, $75, and $150, with discounts available for groups of 10 or more. Call 617-358-7000 for more information. The BU Ticket Office, open Monday to Friday, 10 a.m. to 6 p.m., is located at 925 Commonwealth Avenue. Tickets are also available online at www.agganisarena.com or www.ticketmaster.com. To order tickets by phone, call Ticketmaster at 617-931-2000.