Michael Scimeca
Email: 
mscimeca@bu.edu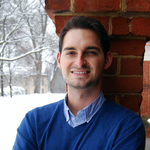 Education:
M.A. Linguistics, University of Virginia (2018)
B.S. Biomedical Sciences, University of Central Florida (2016)
B.A. Spanish, University of Central Florida (2016)
Research Interests:
Agrammatism
Bilingualism/Aphasia
Predictors of Aphasia Recovery
Psycholinguistics
Current Projects:
My current work is situated in language recovery in bilingual aphasia. Broadly construed, I am investigating which factors affect treatment outcomes in our current study of semantic-feature based naming therapy in both Spanish and English. First and foremost, I am interested in measures of patient variability such as pre-treatment aphasia severity and its effect on post-treatment outcomes. In a secondary sense, I am investigating psycholinguistic variables at the item-level such as lexical/logarithmic frequency and phonological length to better understand their effect on recovery within language and across language. The results from this project will not only inform our current computational modeling paradigm but will also permit comparison of our current data to previously published semantic-feature based studies in Spanish/English bilingual aphasia.