Spring Break Cuba Course
Cuba has a rich history with a vibrant contemporary culture, making it an important site for study of the African Diaspora in Latin America, and seeing the complicated place of race and the role of culture in a socialist society. Students explore African and Cuban music, art and religion both historically and today by engaging directly with Cuban artists, academics, and citizens, to gain a deeper understanding of the local, international, and transnational processes that shaped and continue to shape this unique society. You must have sophomore standing or higher in order to participate.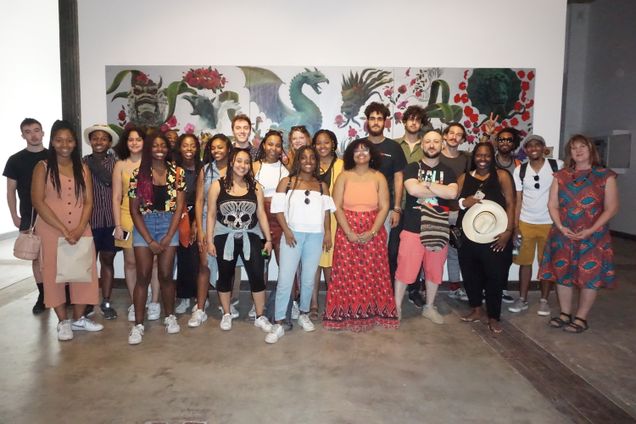 CAS AA306/CFA MH563: Experiencing Cuba: History, Culture & Politics, 1 credit  The course is sponsored by the College of Fine Arts, College of Arts and Sciences, and the African American Studies Program, and is led by Professor Michael Birenbaum Quintero  during Spring Break, March 7-14, 2020.
***BU Spring Break Cuba 2020 has been canceled due to the COVID-19 pandemic. We hope to run the program next year!***
Course registration is restricted.  To be accepted into the course, you need sophomore standing or higher and to submit a statement of academic interest (150 words) describing why you want to study in Cuba. Please send this statement to afamcuba@bu.edu along with your name, email and BU ID. Once accepted into the program, Deirdre James will register you for the course. If enrollment to the Spring Break Cuba 2020 program becomes full, we will start a wait list. 
To see a sample of the course in Havana, Cuba, please view the Boston University Spring Break Program to Cuba 2020 itinerary. Please note that this is only a sample itinerary, and not the program for Boston University Spring Break Program to Cuba 2021.  
Projected trip costs:
Program fee: $1260, includes; 7 nights accommodations, 13 meals, and venue/ground transport costs.
Roundtrip airfare from Boston to Havana is separate, usually around $450-$650.
1 Credit tuition charge or in excess of 18 credits. Please check with your school/registrar about credits.
Miscellaneous costs, includes spending money in Havana: $500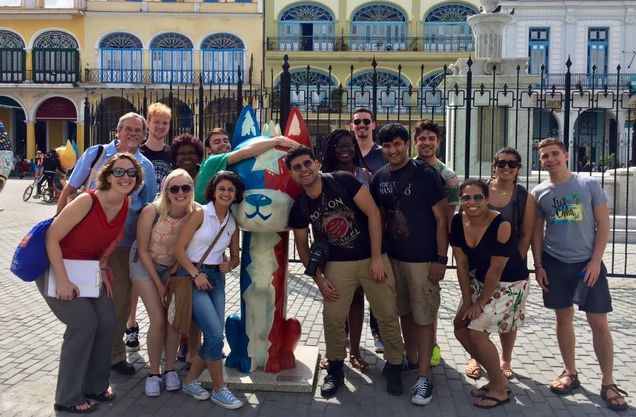 Please friend us on Facebook (BU Spring Break Cuba) or like the page, BU Cuba Alternate Spring Break to view pictures from past years, and other helpful resources.

For more information on registration and the course, please contact Deirdre James at afamcuba@bu.edu.
---
Spring Break Cuba 2019
---
Spring Break Cuba 2018

"This year's group of thoughtful and inquisitive students grappled with the complex issues that characterize Cuban history, society, politics, and culture. It was a pleasure to watch in real time as they ultimately arrived, each in their own way, not only at a nuanced understanding of our southern neighbor but also at a questioning of some of our own assumptions about life here in the United States."
– Michael Birenbaum Quintero, Assistant Prof. of Music, Musicology & Ethnomusicology
"It is said that Cuban culture is strongly linked to Cuban history, so it is necessary to know the history in order to understand the culture. The BU Spring Break Cuba trip opened my horizons, and allowed me to better understand myself and the world that surrounds me. I feel truly blessed to have had such opportunity to get out of my comfort zone and experience the unexpected." – Barbara Zayas, BU Student
"As a journalist, it was amazing to travel to Cuba for the first time and experience their life. I loved learning about the Yoruba religion and watching their performances, seen in the photo." – Ngoctram Claire Tran, BU Student
---
Spring Break Cuba 2017
Read more about Spring Break Cuba 2017 in BU Today: "Cuban Culture Shapes a Spring Break Trip," first-hand reportage by Joel Brown, photos by Janice Checcio.
---
Spring Break Cuba 2016
---
Spring Break Cuba 2015
---
Interested in learning more about Cuba? Here are some U.S. and Cuban online resources that offer rich information in a variety of academic fields from both an American and Cuban perspective.
International Institute for the Study of Cuba on JSTOR
Cubarte: Resources to Cuban Art from a Cuban Web
Granma: Official Cuban (government) newspaper in English