Taking Out the Trash
SSW prof's new book aims to help compulsive hoarders
You probably know one — you may be one. The signs are usually clear, if not immediately obvious to the sufferer: there's stuff everywhere, and the chaotic mess is interfering with daily living. That's essentially the diagnosis of a compulsive hoarder, and until recently there haven't been many effective therapies for helping people who can't throw anything away. Now Gail Steketee, a School of Social Work professor of social work and an expert in the field, has cowritten Buried in Treasures (Oxford University Press), perhaps the first self-help book for compulsive hoarders, providing relief to people living under the weight of too much stuff.   
Compulsive hoarding is not just about being a pack rat, Steketee says. The diagnosis has many components, including fear, anxiety, and a strong sense of responsibility to objects. "It's usually about fearing that you'll forget something important, make a mistake, not have the right thing when you need it — and that there will be some unfortunate consequences for all those," she says. So a hoarder holds on to everything.
Also involved is a strain of responsibility. "Sometimes it's a responsibility to objects, sort of a magical thinking," she says, "as if the objects have character and need protection or proper care." She cites the patient of a colleague, who kept buying things on the Internet "because they weren't properly being attended to," the patient said. "The poor puppet no one bid on — it will have feelings about that."
Then there's the need to properly dispose of material goods — "you can't just throw it in the trash: somebody might benefit from this," Steketee says. "Or a strong wish to recycle, which many of us have, but it can be carried a little too far, so it is almost impossible to get rid of something because you have to do it exactly right."
Now, many people exhibit some of these behaviors, at least in part. Where they become harmful, she notes, is when they impair functioning. "So if you can't eat dinner at your dining room table, if you couldn't get the EMT staff into the house if there were a heart attack, then you've crossed a line."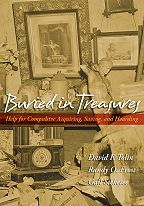 Dealing with the problem isn't easy, says Steketee, who is also SSW dean ad interim. She and several colleagues have developed and tested cognitive behavioral therapies to treat compulsive hoarding. A recent study of those treatments, made up of about 26 sessions over 9 months, found that 46 percent of the people who took part benefited. That may sound low, Steketee says, but it's a better record than most other therapies available.
"We have room for improvement, and we think that we know where to make that improvement," she adds. She's also cowritten a treatment manual for therapists based on the treatment model. Steketee hopes that Buried in Treasures, published this week, will help more people recognize the problem. Cowritten by Randy Frost, of Smith College, and David Tolin, another expert in the field, the book offers compulsive hoarders and their family members strategies for dealing with the problem.
Steketee estimates that perhaps three million Americans are compulsive hoarders. When Tolin appeared on Oprah to talk about the issue, the show was bombarded with 8,000 e-mails. In fact, you don't need to go farther than your own neighborhood to find evidence of hoarding. "My neighborhood has three people who are very easily identifiable — lots of stuff in the garage, the yard, the car full of stuff so that you can't drive it anymore," Steketee says.
Or perhaps you don't even have to go that far: how's your desk looking these days?
Are you a compulsive hoarder? Visit the amazon.com page for Buried in Treasures and fill out this questionnaire.
Taylor McNeil can be reached at tmcneil@bu.edu.