Opposite but Equal
The paintings of Kaitlin McDonough (CFA'07) and Matt Milkowski (CFA'07) were chosen for display at CFA's Gallery 5.
The paintings of Kaitlin McDonough (CFA'07) and Matt Milkowski (CFA'07), which are shown together in the premiere student exhibition of the College of Fine Art's Gallery 5, may be very different, but the two artists complement each other well, says McDonough. That's because their work is "opposite but equal," she says.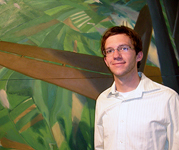 McDonough's work deals with the intimacy of bodies and food, while Milkowski's pieces focus on skies and flight, specifically the B-17 bombers used in World War II. McDonough's paintings are loud and vibrant, Milkowski's subtler. What unites the two painters is their process; both approach their large-scale paintings from the inside, imagining the sensations of what they create while they are creating it. "All of the paintings do have these kinds of poetic narratives," says McDonough. "The ambivalence is definitely painted into them."
The work of the two seniors opened April 4 in an exhibition called Feeding and Flying at Gallery 5, previously the lobby of a fifth-floor office in the College of Fine Arts. McDonough and Milkowski were chosen as the premiere exhibitors from a pool of CFA students who had submitted proposals.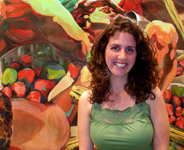 McDonough says that another similarity among the pieces is their ability to convey many different emotions. "One of the most amazing things about painting is being able to talk about something really horrific and something really beautiful at the same time," she says, "depending on which angle the viewer wants to see it from."
Feeding and Flying is on display through May 3 at Gallery 5, College of Fine Arts, 855 Commonwealth Ave., Boston.

Brittany Jasnoff can be reached at bjasnoff@bu.edu.