How Not to Study: Students Confess
Tips and techniques for getting over the finals hump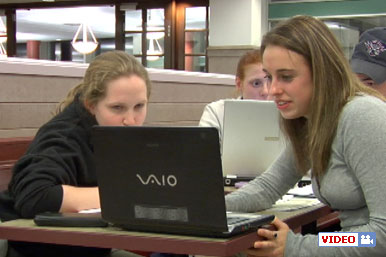 Click above to watch how students are dealing with finals.
It's finals time at Boston University. Sleep-deprived undergrads prowl Commonwealth Avenue for late-night snacks. Dorm rooms have never been cleaner; facebook.com has never been more scoured. Computer cursors are blinking and books and highlighters are assembled and waiting — and waiting. It's almost Newtonian in its logic: the more we have to study, the more we want to put it off. And while everybody procrastinates, there's nothing like the intense pressures of academia to raise time-wasting to a high art.
On a recent evening, BU Today ventured across campus — from the George Sherman Union to the basement of the College of Communication — to see how students grapple with impending exams and final projects. With the notable nose-to-the-grindstone exception of engineering students, most were more than happy to look up from their laptops for a moment and tell us how, at this time of year, time becomes a flexible, amorphous thing, capable of being diverted to bathtub clothes washing, random Web searches, and staring contests with goldfish. Many students had already pulled all-nighters, and as the night wore on, a few appeared to be headed that way again. As one senior described his last few days, "I've seen the sunrise more than I'd like to."
Click here to vote on the best way to procrastinate in today's Quick Poll.