Designed to a "T""
Art installation comes to BU West
This week, B-line commuters between the Boston University Central and the St. Paul Street stops will find themselves in the troposphere. "Open Space," an art installation featuring large-format images of cloudscapes, will be on view at the Boston University West T stop. The installation, a collaboration between the College of Fine Arts and the MBTA, consists of work by Seth Gadsden (CFA'07), an MFA candidate at the school of visual arts, who hopes to offer viewers "a fresh visual experience in a public space so often occupied by advertising."
"These images of big skies, filled with clouds of various densities, are designed to offer travelers [an] experience with a drawing process that presents a contrast with the way large vistas are usually seen," Gadsden says. "Remote, wide, airy space is brought up close, and made contemplative and intimate."
Gadsden, a student in the painting program, has created 10 large-format digital reproductions of pen-and-ink drawings. The subject is clouds, shot through airplane windows, and the images — originally small drawings — have been enlarged to reveal the tonal and shading effects used to create the work.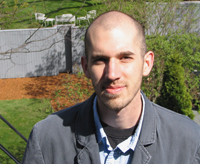 Seth Gadsden
"It really brings a lot of attention to the process of making the drawing — you see every little line," says Hugh O'Donnell, a CFA professor of painting, who teaches the Site-Specific Art course where the piece was created. "You'll be getting hit with the fact that somebody's actually made these."
The idea emerged late last semester, when Gadsden took O'Donnell's course, which covers the entire process of creating an installation piece for a particular location. "I said to them, 'Don't just stop at the University, think of the whole of Boston,'" O'Donnell says. "Seth came to me and said, 'Could I do something outside? I'd love to put my drawings up at the station.'" The MBTA, he says, embraced the idea and gave Gadsden permission to create the installation.
The challenge now, O'Donnell says, is to make sure that people are aware that the work is meant to be appreciated and is not vandalized or removed. "Seth wanted to make something contemplative," he says. "He wanted to get people to slow down and stop."