Bringing BU's archives to students
Gotlieb Archival Research Center holds papers of 2,000 public figures
In the fall of 2004, BU students were able to hold history in their hands. Wearing white cotton gloves, they examined such documents as a 1775 letter from Revolutionary War traitor Benedict Arnold, in which he describes his disillusionment with the American Army, to Silas Deane, a Connecticut representative to the Continental Congress.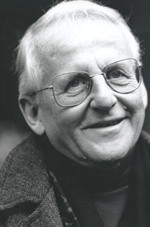 Gordon Rogoff        
The event, titled Espionage — Intelligence, Secrets, and Spies, was the first Student Discovery Seminar at the Howard Gotlieb Archival Research Center (HGARC). Vita Paladino, the center's managing director, initiated the seminars — there have been 22 since — to bring the University's archives of 2,000 public figures directly to its students. On Thursday, March 30, distinguished theater critic Gordon Rogoff, whose papers were recently acquired by the center, will talk about his career in the GSU's Metcalf Hall at 6 p.m. For more information on this event, which is free and open to the public, click here.
Paladino has also successfully wooed undergraduates to the center's new Student Enrichment Series, which in February brought to campus renowned dance choreographer Mark Morris and Boston Ballet Company artistic director Mikko Nissinen for an evening of discussion and dance performances by company members; more than 450 students attended the event. Last September, a HGARC-sponsored sneak preview of the Boston Ballet's Cinderella drew more than 500 students to Metcalf Hall.
In addition, Paladino has made an effort to attract students to the HGARC's Friends of the Libraries Speaker Series. Recent speakers, whose papers are part of the center's archives, have included mystery writer Sue Grafton and actress Mary Louise Parker. "We had a huge student turnout for Sue Grafton, and Mary Louise Parker held a private question-and-answer session with a College of Communication class before she took the stage at Metcalf Hall," Paladino says. "These public figures, especially writers and actors, have interesting stories to tell, and I think they can be role models for students."
She is quick to point out that the Gotlieb Center is not a museum, but a research library. Its holdings are traditionally used by biographers, filmmakers, and graduate students working on dissertations. But undergraduates, Paladino says, are increasingly using the collections for primary resource materials in their research. "One of our main goals is to enrich the student experience," she says. "At one point I got tired of hearing, during alumni tours, alums saying, 'I was here for four years, and I never knew this place existed.'"
Founded by Gotlieb in 1963, the HGARC is a repository for personal papers of such influential public figures, writers, and performers as Martin Luther King, Jr. (GRS'55, Hon.'59), Abraham Lincoln, Theodore Roosevelt, Robert Frost (Hon.'61), George Bernard Shaw, Samuel Beckett, Ella Fitzgerald, and Isaac Asimov (Hon.'80). "This is the house that Howard built," says Paladino in her office on the fifth floor of Mugar Memorial Library. She sits next to a portrait of Bette Davis — a painting from the 1938 film Jezebel. BU houses the papers and various artifacts of many Hollywood legends, including, besides Davis, Fred Astaire and Douglas Fairbanks, Jr.
Gotlieb, who died last December, was a pioneer in collecting personal papers and memorabilia of living authors and other luminaries, partly because BU didn't have the financial resources to pursue those of the likes of George Washington and Charles Dickens, as other institutions were doing. "His idea of collecting the papers of contemporary people was revolutionary, and it gave us the advantage of compiling comprehensive archives of them," Paladino says. "By doing this, we also have the opportunity to bring these people to the University to speak to the BU community. My goal is to carry on Howard's tradition and have more students use our collections."
The next Student Discovery Seminar, Journalists Under Fire: Reporting the Vietnam War, is on Tuesday, April 4, at 5 p.m. at the Howard Gotlieb Archival Research Center. BU holds the papers of several notable news correspondents who covered the Vietnam War, including Dan Rather (Hon.'83), Oriana Fallaci, David Halberstam, and Frances Fitzgerald.