The Child and Adolescent Learning and Living Study (CALLS)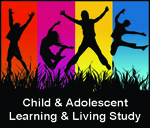 Hemifacial microsomia (HFM) is characterized by asymmetric underdevelopment of the face. Although HFM is the second most common craniofacial malformation, there have been few studies of its impact on affected children. We have conducted the first large case-control (1997-2002) and follow-up (2004-2009) studies of children with and without HFM. In our follow-up study, we examined the potential influence of HFM on social-emotional and neuropsychological development. We found that children with HFM between 6-12 years of age were more likely to be shy and nervous, had more social challenges, and experienced greater academic difficulty based on results from neuropsychological screening measures.
We have recently been funded to follow-up this cohort of children with and without HFM when they are between the ages of 11-17 years. In this study, the Child and Adolescent Learning and Living Study (CALLS), we hope to do a more detailed assessment to learn more about the children's social-emotional development, academic achievement, and neuropsychological functioning. We will directly assess their speech/language patterns, memory, and learning, conduct complete hearing and vision screens, and take photographs so that we can better characterize the typical characteristics or phenotype of HFM. We will also gather information from the children's parents to learn more about their adaptive behavior, sleep patterns, social participation, and quality of life. In doing so, we expect to identify areas in which strategies are needed to reduce the impact of functional impairments in everyday life and to promote healthy outcomes.
All children with and without HFM who participated in our first follow-up study are eligible to participate in CALLS. To gather the information we need from families who live across the United States and Canada, we will send trained staff to the cities and towns where study subjects live to conduct standardized testing of children and youth and to gather survey data from parents. Educational records and medical history questionnaires will be used to gather updated information about health and educational supports and services. All study participants will be compensated for their time and have the option to receive a summary of their child's testing results (e.g., to help with educational or vocational planning).
For more information, please see our CALLS Study Overview
Investigators and Study Staff
Investigators:
Martha Werler, Sc.D.
Principal Investigator
Senior Epidemiologist and Professor,
School of Public Health
Slone Epidemiology Center at Boston University



Matthew Speltz, Ph.D.
Co-Principal Investigator
Professor of Psychiatry and Behavioral Sciences
Division Chief, Outpatient Psychiatric Services
University of Washington School of Medicine
Seattle Children's Hospital Research Institute


Brent Collett, Ph.D.
Co-Investigator
Assistant Professor,
Dept. of Psychiatry and Behavioral Sciences
University of Washington School of Medicine
Seattle Children's Hospital Research Institute
Study Consultants:

Kathy Chapman, Ph.D.
Consultant
Professor and Director of Graduate Studies,
Dept. of Communication Sciences and Disorders
University of Utah



Yona Cloonan, Ph.D.
Consultant
University of Pittsburgh


Carrie Heike, M.D., M.S.
Consultant
Assistant Professor of Pediatrics
University of Washington School of Medicine


Mary Khetani, Sc.D., O.T.R.
Consultant
Assistant Professor, Dept. of Occupational Therapy
Secondary Appointment,
Human Development and Family Studies
Colorado State University



Jacqueline Starr, Ph.D., M.S., M.P.H.
Consultant
University of Washington


Study Staff (Slone Epidemiology Center):
Lisa Crowell, R.N.
Research Coordinator
Michelle Rosie , B.A.
Psychometrist
Michael Bairos, B.S.
Database Analyst
Krisandra Kneer, B.S.
Psychometrist

Study Staff (Seattle Children's Hospital Research Institute):
Aurora Gangan, B.A.
Research Coordinator


Kate Silver-Heilman, M.Ed.
Psychometrist


Sharman Conner, M.A.
Study Manager


Kristen Daniels
Research Data Coordinator


Study Details
Source of Funding:
National Institute of Dental and Craniofacial Research (NIDCR)
Study Period:
July 2010 to 2015
Associated Studies
Newsletters
Publications
Here are the published articles from the follow-up study (2004-2009):
Here are the published articles from the case-control study (1997-2002):
Contact Information
Lisa Crowell, R.N.
(617) 734-6006 or 1-888-489-8826
calls@bu.edu