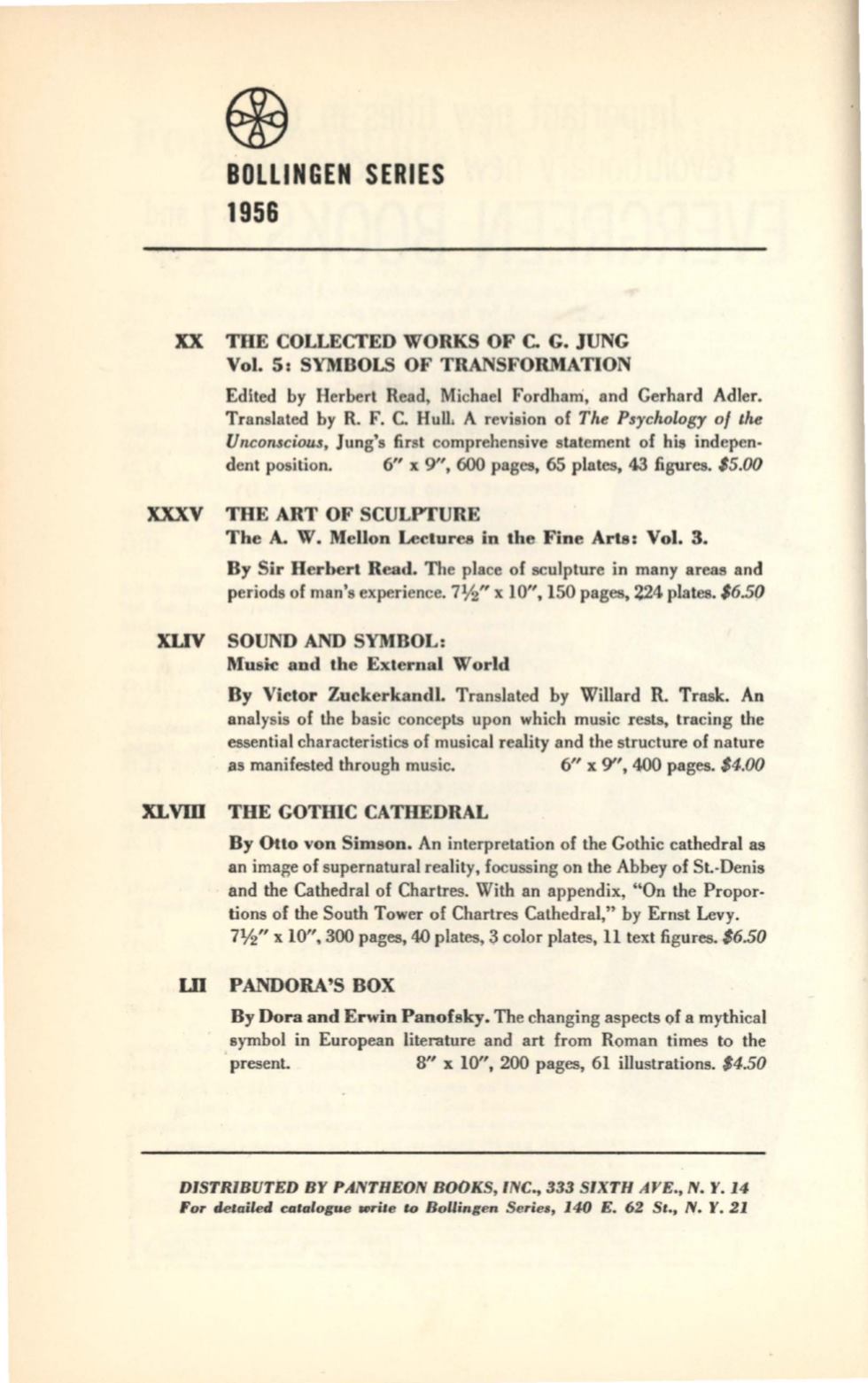 BOLLINGEN SERIES
1956
XX THE COLLECTED WORKS OF
Vol. 5: SYMBOLS OF TRANSFORMATION
Edited by Herbert Read, Michael Fordham, and Gerhard Adler.
F. C. Hull, A revision of
The Psychology of
the
Unconscious,
Jung's first comprehensive statement of his indepen·
6" x 9", 600 pages, 65 plates, 43 figures.
XXXV THE ART OF SCULPTURE
The A. W. Mellon Lectures in the Fine Arts: Vol. 3.
By Sir Herbert Read. The place of sculpture in many areas and
periods of man's experience. 7%" x 10", 150 pages, 224 plates.
Music and the External World
By Victor Zuckerkandl. Translated by Willard
analysis of the basic concepts upon which music rests, tracing the
essential characteristics of musical reality and the structure of nature
manifested through music.
$4.00
XLVIII THE GOTmC CATHEDRAL
By Otto von Simson. An interpretation of the Gothic cathedral as
an image of supernatural reality, focussing on the Abbey of St.-Denis
and the Cathedral of Chartres. With an appendix, "On the Propor–
tions of the South Tower of Chartres Cathedral," by Ernst Levy.
color plates, 11 text figures.
$6.50
By Dora and Erwin Panofsky. The changing aspects of a mythical
symbol in European literature and art from Roman times to the
DISTRIBUTED BY PANTHEON BOOKS, INC., 333 SIXTH AYE., N.
14
For detailed CDialogue
lo BoUingen Seriea, 140 E. 62 St., N.
21