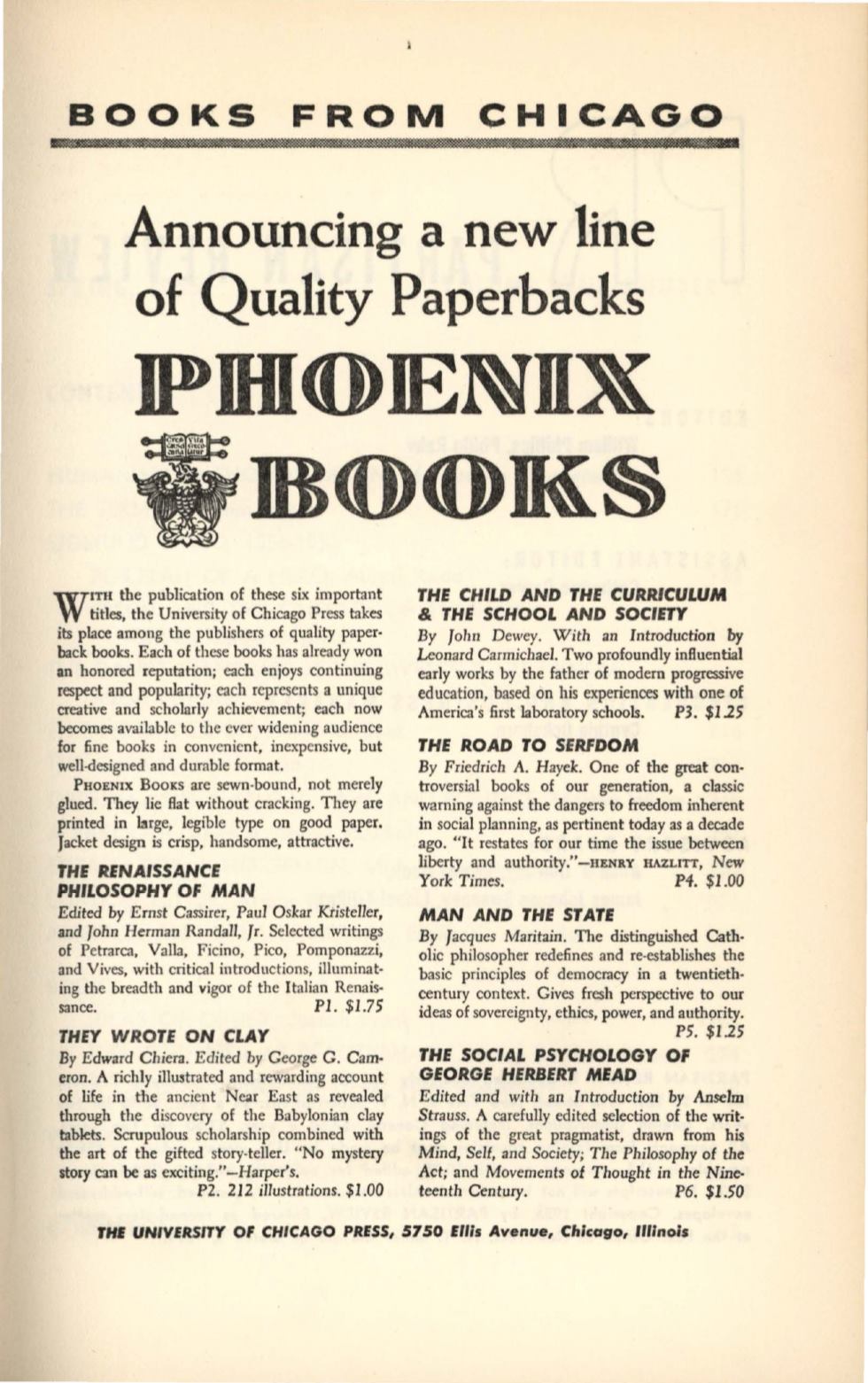 BOOKS FROM CHICAGO
Announcing a new line
of Quality Paperbacks
B<O><O>IKS
ITH the publication of these six important
titles, the University of Chicago Press takes
its place among the publishers of quality paper–
back books. Each of these books has already won
an honored reputation; each enjoys continuing
respect and popularity; each represents a unique
creative and scholarly achievement; each now
becomes available to the ever widening audience
for fine books in convenient, inexpensive, but
well-designed and durable format.
PHOENIX BooKs are sewn·bound, not merely
glued. They lie flat without cracking. They are
printed in large, legible type on good paper.
Jacket design is crisp, handsome, attractive.
THE RENAISSANCE
PHILOSOPHY
Of
MAN
by
Ernst Cassirer, Paul Oskar Kristeller,
of Petrarca, Valla, Ficino, Pico, Pomponazzi,
and Vives, with critical introductions, illuminat–
ing the breadth and vigor of the Italian Renais–
Pl. $1.7S
THEY WROTE
ON
CLAY
Edward
Chiera. Edited by George G. Cam–
eron. A richly illwtrated and rewarding account
of life in the ancient Near East as revealed
through the discovery of the Babylonian clay
tablets. Scrupulous scholarship combined with
the art of the gifted story-teller. "No mystery
nory can be as exciting."-Harper's.
$1.00
THE
CHILD AND
THE
CURRICULUM
THE SCHOOL
AND
SOCIETY
Dewey. With an Introduction
Leonard Carmichael. Two profoundly influential
early works by the father of modem progressive
education, based on his experiences with one of
America's first laboratory schools.
$12S
THE
ROAD TO
SERFDOM
Hayek.
troversial books of our generation, a classic
warning against the dangers to freedom inherent
in social planning, as pertinent today as a decade
ago. "It restates for our time the issue between
liberty and authority."-HENRY HAZLITT, New
York
P4.
MAN AND
THE
STArE
Jacques
Maritain. The distinguished Cath–
olic philosopher redefines and re-establishes the
basic principles of democracy in a twentieth–
century context. Gives fresh perspective to our
ideas of sovereignty, ethics, power, and authority.
PS. $12S
THE SOCIAL PSYCHOLOGY OF
GEORGE HERBERT MEAD
Edited and with an Introduction by Anselm
Strauss. A carefully edited selection of the writ–
ings of the great pragmatist, drawn from his
The
Act;
of Thought
$I .SO
JHI
UHNERSITY OF CHICAGO PRESS, 5750 Ellis Avenue,
Chlcogo, Illinois