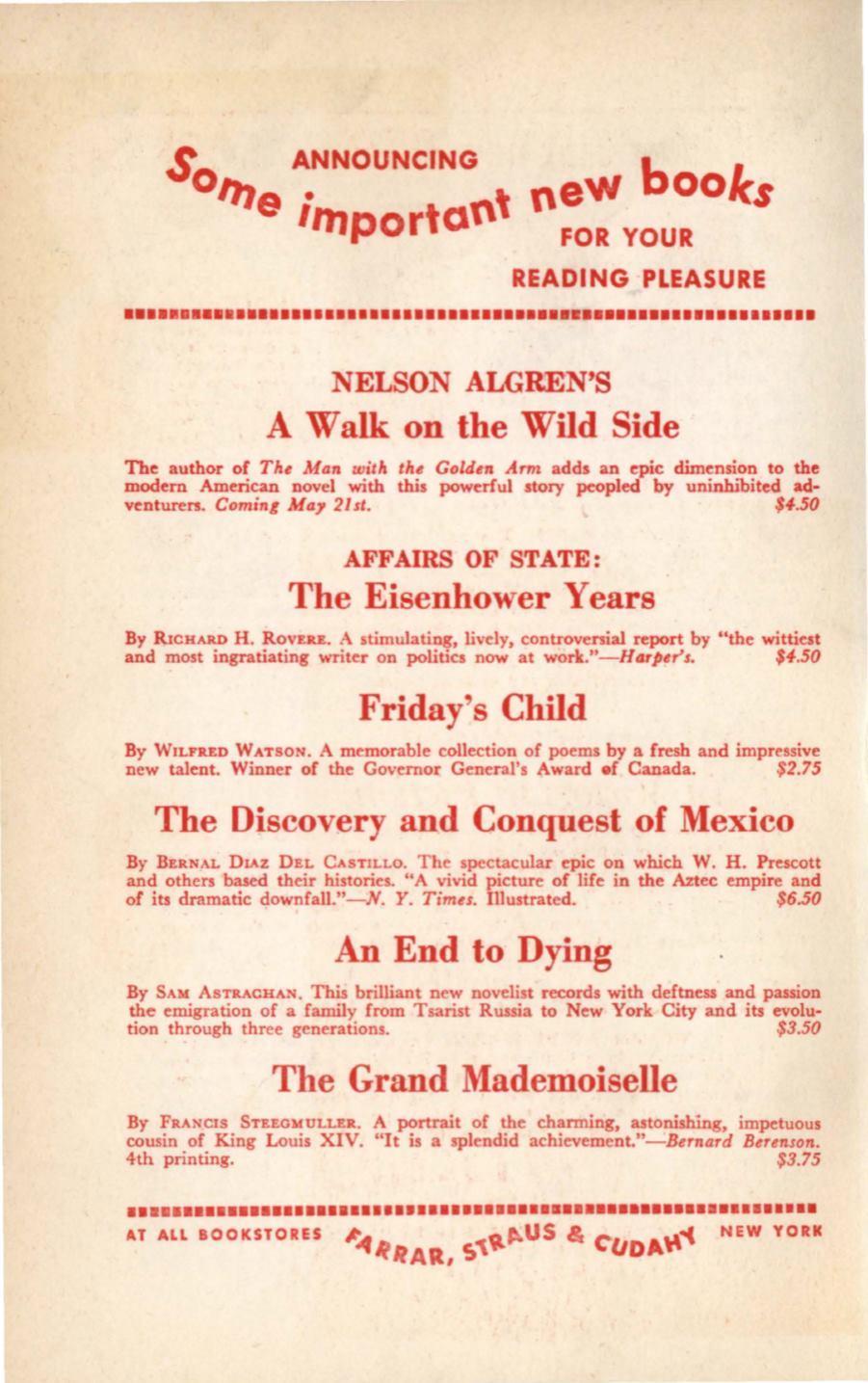 &o
ANNOUNCING
b
1'1)
neW
ooks
e irnportont
FOR YOUR
READING ·PLEASURE
••••m•••••••••••••••••••••••••••••••••••••••••••••••••••••••••
NELSON ALGREN'S
A Walk on the Wild Side
The Man with the Golden Arm
adds an epic dimension to the
modern American novel with this powerful
ad–
Coming May
21st.
$4.50
AFFAIRS OF STATE:
The Eisenhower Years
RovERE. A stimulating, lively, controversial report by "the wittiest
and most ingratiating writer on politics now at
work."-Harper's.
$4.50
Friday's Child
By WILFRED WATSON. A memorable collection of poems by a fresh and impressive
new talent. Winner of the Governor General's Award ef Canada.
The Discovery and Conquest of Mexico
By BERNAL DIAZ DEL CASTILLO. The spectacular epic on which W.
and others based their histories. "A vivid picture of life in the Aztec empire and
of its dramatic 4ownfall."- N.
Y. Times.
$6.50
An End to Dying
By SAM AsTRACHAN. This bdlliant n ew novelist records with deftness and passion
the emigration of a family from T sarist Russia to New York City and its evolu–
tion through three generations.
The Grand Mademoiselle
By FRANCis STEEGMULLER. A portrait of the charming, astonishing, impetuous
cousin of King Louis XIV. "It is a splendid achievement."-Bernard
Berenson.
••••••••••••••••••••••••••••••••••••••••••••••••••••••••••••••
AT ALL BOOKSTORES
j:-A
tlp.US
Ll'i NEW YORK
s1
lJDAP>