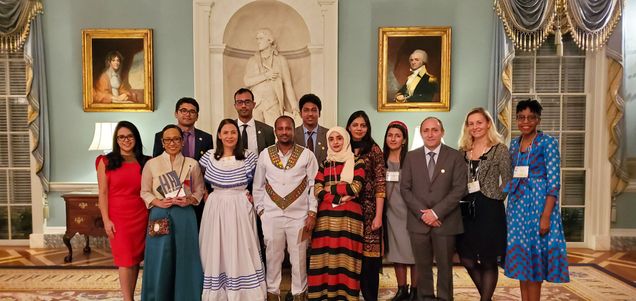 The Questrom School of Business serves as the Program's administrative home at Boston University. The 2019–2020 cohort of Humphrey Fellows at BU includes thirteen Fellows who specialize in banking and finance. Boston University is one of the only universities to have continually hosted Humphrey Fellows since the Program's inception in 1978. Our own alumni network exceeds 500 members in over 120 countries.
---
Established in 1978 in memory of the public servant who pioneered landmark initiatives in support of human rights and international cooperation, the Hubert H. Humphrey Fellowship Program sponsors experienced professionals from designated countries undergoing development and/or political transition to spend a year in the U.S. preparing to address some of the most compelling development issues of our time.
The Humphrey Fellowship Program is a Fulbright activity, primarily funded by Congress and administered by the Bureau of Educational and Cultural Affairs at the U.S. Department of State with assistance from the Institute of International Education.
Cohorts of 10–15 Humphrey Fellows are annually hosted by universities chosen for their excellence in the Fellows' fields and for the resources and support they offer. Over the course of an academic year, Fellows engage in professional and leadership development, collaboration with U.S. counterparts, and exchange of knowledge and understanding about issues of common concern in the U.S. and their home countries. The Humphrey alumni network comprises over 5,600 Fellows worldwide.