Sail Away
Sunset voyage through Boston Harbor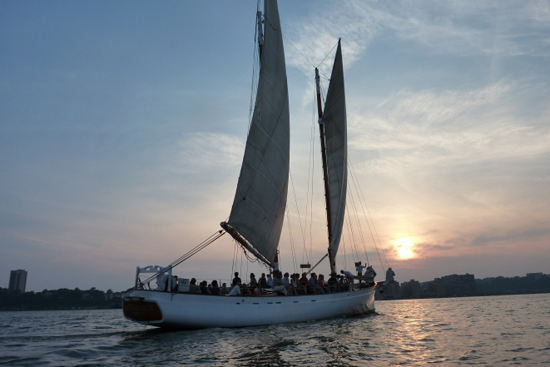 What better way to celebrate the arrival of August than with a sunset cruise through Boston Harbor aboard a sailing vessel? It's the perfect way to beat the heat and relax after a busy day. From the deck of the beautiful Adirondack III, an 80-foot wooden gaff-rigged schooner with classic lines, you're guaranteed to enjoy a view of Boston unlike any other—a romantic backdrop featuring the city's skyline and several of the Boston Harbor islands drenched in a fiery sunset glow—all while being propelled by nearly 2,000 square feet of billowing sail.
Modeled after late 19th-century pilot schooners, the Adirondack III's streamlined construction is designed for passenger comfort. Its sleek design allows the pilot schooner to effortlessly cut through waves, offering a smooth and comfortable sail.
The majestic vessel begins its evening voyage along the shore of the Seaport District—where some of Boston's oldest architecture is increasingly punctuated by new construction. You'll sail past landmarks like the World Trade Center and the Harpoon Brewery before moving on to the inner harbor islands. There, you'll navigate past such points of interest as Fort Independence on Castle Island, the longest continuously fortified site in the United States, and the nation's oldest lighthouse, located on Long Island Head.
A Coast Guard–licensed captain and knowledgeable crew are on hand to answer questions and share maritime legends and lore as you enjoy light refreshments. Soda and water are complimentary and adult beverages—domestic beer, local/micro brews, and wine—are available for purchase from the ship's bar ($5). Guests are encouraged to bring their own picnics. It's the perfect opportunity for a date night.
The Adirondack III, operated by Classic Harbor Line, departs from Rowes Wharf, Boston, at 6:30 p.m. every day of the week except Thursday. Admission is $52 and tickets can be purchased in advance online or by calling 617-951-0020. To get to the wharf via public transportation, take any inbound Green Line trolley to Park Street station. From there, the wharf is a 15-minute walk away.