Huntington's Venus in Fur "the Hottest Date in Boston"
Play provides a "stage seminar on the nature of desire"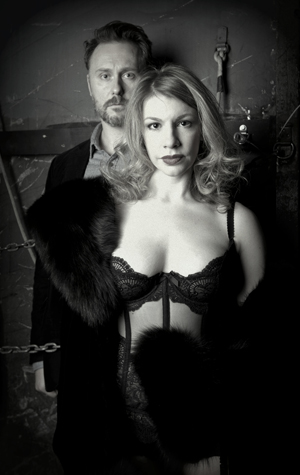 Since its debut three years ago, David Ives' piquant Venus in Fur has been widely praised for providing, as New York Times critic Charles Isherwood wrote after the production moved from off-Broadway to Broadway, a "seriously smart and very funny stage seminar on the destabilizing nature of sexual desire." Just in time to take the chill off a gray New England winter, the Huntington Theatre Company is staging Venus in Fur through February 2 at the Boston University Theatre.
Daniel Goldstein, who directed last year's God of Carnage, returns to the Huntington to direct Venus. Nominated for a 2012 Tony Award for best play, Ives' drama is reportedly the most produced play in America. Venus in Fur is a two-character, 90-minute work in which an insistent, disheveled actress' tempestuous late arrival to a stage audition transforms the proceedings into a "suspense-packed study of the erotics (and semiotics) of power," Isherwood wrote. Chris Kipiniak (Metamorphoses and Macbeth on Broadway) makes his Huntington debut as Thomas, the high-minded, demanding writer-director of an adaptation of the 1870 erotic novel Venus in Furs by Leopold von Sacher-Masoch, whose writings spawned the word "masochism." Andrea Syglowski (Benefit of the Doubt at Roundabout Theatre Company and The Cherry Orchard at New York's Mint Theater Company) plays the actress, Vanda, in a role brimming with physical comedy. Vanda's arrival onstage was described by Isherwood as "a thunderclap." As she seduces and wheedles her way into Thomas' audition, their role-playing spills into a searing, funny, and mysterious psychosexual encounter and a scintillating game of cat and mouse.
"This savage, sexy, smart, and funny new play took my breath away," says Huntington artistic director Peter DuBois. Goldstein, who "set our stage on fire with God of Carnage," is a perfect fit as Venus in Fur director, DuBois adds.
"It's such a thrill always to return to the Huntington and Boston audiences," Goldstein says, and bring "this explosive new play to life" here. "Chris and Andrea are at the top of their game."
Ives' many plays include The School For Lies (adapted from Molière's The Misanthrope), The Heir Apparent, and Is He Dead? an adaptation of a play by Mark Twain. A graduate of the Yale School of Drama and a former Guggenheim Fellow in playwriting, Ives is the author of 3 young adult novels: Monsieur Eek, Scrib, and Voss, and he has adapted 32 American musicals for New York City's Encores! series, which presents classic American musicals in concert settings.
"The depth of suspense of this play is so exciting," says DuBois. "It's a really sexy night at the theater and a great piece of writing. You leave the theater feeling kind of high. I think it's going to be the hottest date night in Boston."
Venus in Fur runs through Sunday, February 2, at the BU Theatre, 264 Huntington Ave., Boston. Tickets may be purchased online, by phone at 617-266-0800, or in person at the BU Theatre box office. Patrons 35 and younger may purchase $25 tickets (ID required) for any production, and there is a $5 discount for seniors. Military personnel and students can purchase tickets for $15. Members of the BU community get $10 off (ID required) and are eligible for a special subscription rate. Call 617-266-0800 for more information. Follow the Huntington Theatre Company on Twitter at @huntington.