CFA Alum Receives Tony Nomination
Jess Goldstein up for Broadway's biggest honor this weekend
In the video above see costumes from The Merchant of Venice. Sketches by Jess Goldstein. Photos from The Merchant of Venice by Joan Marcus, courtesy of the Public Theater. Photo of Jess Goldstein by Jeffrey Dunn
For more than three decades, Jess Goldstein has been one of Broadway's hottest costume designers. His clothes have been worn by a who's who of the American theater, including Blythe Danner (A Streetcar Named Desire), Mary Louise Parker (Proof), and Denzel Washington (Julius Caesar). In addition to dozens of Broadway credits, among them the hit musical Jersey Boys, Goldstein (CFA'72) has designed costumes for productions at regional theaters and opera companies across the country.
His latest Broadway project—creating the costumes for the Public Theater's acclaimed production of The Merchant of Venice, starring Al Pacino as Shylock—has earned him a nomination for the American theater's highest accolade, a Tony Award, for Best Costume Design of a Play. The awards ceremony will be televised next Sunday, June 12, at 8 p.m.
When The Merchant of Venice first opened in Central Park last summer, it quickly became the hottest ticket in New York. In November, the show moved to Broadway. Critics hailed it as revelatory and singled out Pacino and costar Lily Rabe, as Portia, for their performances. And in his New York Times review, critic Ben Brantley praised the production's "fine, elegantly inhibiting set and costumes."
Goldstein says being nominated for a Tony was thrilling. "The production was a limited engagement and closed so many months ago," he says, "that I was ready to blame the nominators' short memories if I wasn't remembered." Even though the play ended in February, he needn't have worried.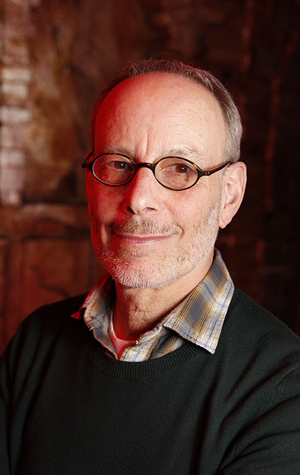 Goldstein (left) typically approaches a production by reading the play and spending a couple of weeks thinking about the characters and their situations. "If it's a period piece, I'll start doing research in my studio," he says. "I have a pretty extensive library, but often go out and treat myself to a new book on the historical period." With a Broadway production, the designer usually has the luxury of a couple of months to finish the designs. It's not unusual for him to resketch a character to look a little more like the actor playing the role.
For this Merchant of Venice, director Daniel Sullivan had already chosen to update the period to 1910. Goldstein says Sullivan wanted the opening scene to look like a version of the Venetian stock exchange, a setting that posed a special challenge for the designer. "It meant that the all-male scene would be two dozen actors in Edwardian business suits, which were historically mostly black and gray frock coats," he says.
Goldstein solved the problem by incorporating small variations in each costume that would distinguish one actor from another—"subtle bits of color in their cravats, waistcoats, and other accessories." When it came time to dress Portia and her companion, Nerissa, Goldstein chose "bright red and orange Pre-Raphaelite gowns." The effect was to "lighten and feminize the mood of the play."
From a costume designer's point of view, he says, The Merchant of Venice is "a particularly fascinating play because it involves such a diverse cross section of society: wealthy, working class, and poor Venetians; Italian Jews; Moroccan royalty; a Spanish prince; lawyers; judges; doctors; and even masquerade costumes for the midnight revels scene when Shylock's daughter elopes with his money."
Goldstein admits to being something of a minimalist. "I don't like fussiness and overwrought clothes and details. I want my work to look effortless and real. I feel it's important not to overwhelm the actor," he says. So, in designing the costumes for Merchant, he and his team "lessened the degree of corsetry and petticoats in the ladies' costumes so that they didn't have the upholstered effect that often happens when that period is done with absolute historical authority.
Regardless of whether he's designing costumes for a musical, a comedy, or a drama, Goldstein's favorite part of the design process is working with actors. "While the director may not be ready to talk costumes," he says, "actors are always eager to get into those personal details. The most creative part for me is the first costume fitting, when the actor and I are standing in front of a mirror looking at the unfinished costume and we make little edits and changes that make it particular and specific to not only my vision of the character, but the actor's as well. After all, the actor has to wear the clothes and sell the character to the audience."
Having worked with stars such as Mary Tyler Moore, Mary Steenburgen, Nathan Lane, and Kristin Chenoweth, the veteran designer says it's impossible to name a favorite actor. But he quickly launches into a story about working with Pacino on Merchant. "He's the least vain actor I have ever worked with," he says. "He doesn't really like to look at himself in the mirror, and so he would just watch me looking at him to see if I was pleased. He was very dear and trusting and had a wonderful sense of humor about himself."
The Merchant of Venice nomination marks the third time Goldstein has been honored by the American Theatre Wing. His first Tony nomination was for a revival of Shakespeare's Henry IV. He won a Tony in 2005 for his designs for a production of Richard Sheridan's 18th-century comedy The Rivals.
Goldstein didn't come to BU with the idea of becoming a costume designer. "I began my freshman year in the art school, but foundered because I didn't really know what I wanted to pursue," he recalls. "I knew I wasn't good enough to be a painter or sculptor, and commercial art was just too much of a vague unknown to me."
In his sophomore year, he decided to become an art history major, then he met a couple of guys in his dorm who were School of Theatre design majors. It was a eureka moment. "It suddenly felt that if I could study costume and set design in college and earn a degree in it, it didn't seem like such an exotic and outlandish occupation," he says. "It was the perfect combination for my skills and interests."
On Sunday, Goldstein will be competing against three formidable colleagues for the Tony award: Desmond Heeley (The Importance of Being Earnest), Mark Thompson (La Bête), and Catherine Zuber (Born Yesterday). Win or lose, the designer will have plenty on his plate. He's already in previews for an Atlantic Theater Company production of Through a Glass Darkly, based on the Ingmar Bergman screenplay. And this fall, he will be designing the costumes for a new Disney musical on Broadway, a stage adaptation of the movie Newsies.
"You really have to love the work," Goldstein says. "It's not a job for lazy people and you constantly have to prove yourself over and over." While talent is important, he says, other "uncontrollables"—timing and fate—also play a role in determining a successful career.
His advice for young designers? "Be very aware of the potential of every situation you're in and observe, listen, and learn how to use the connections you make."
The Tony Awards ceremony will be broadcast on CBS Sunday night, June 12, at 8 p.m. EDT.
John O'Rourke can be reached at orourkej@bu.edu. Grace Ko can be reached at graceko@bu.edu.