Seniors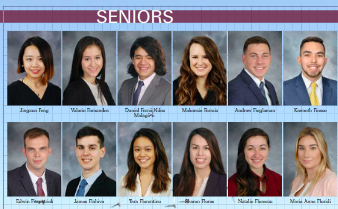 Don't miss your chance to be featured in the Yearbook!
Senior portraits are taken on campus from October to February during the academic year. You are also welcome to submit your own portrait by submitting the image directly to our Jostens files. Please makes sure your image file name is your full name in the following format: LAST NAME.FIRST NAME
If you are a graduating student and have not received an email from our photographer, Lauren Studios, please email info@laurenstudios.com to get on their list.
If you have questions about your photos, please contact them via email at info@laurenstudios.com.
If you have more questions about senior portraits or ordering a yearbook, please see our FAQ page.
2023 Yearbook
Senior portraits are now being taken for the 2023 Yearbook. If you are studying abroad in the fall, you will have the opportunity to schedule a session during the spring semester. If you have not received an email regarding them and are graduating, please contact Lauren Studios, our photographer, at info@laurenstudios.com
2023 Yearbooks are now on sale. Purchase a 2023 Yearbook from Jostens here or order through Lauren Studios during your portrait session.
Attention Student Groups
We want your photos! We are currently collecting photos from your events and of your groups. Please learn more on our Student Group page.