TEDxBU 2022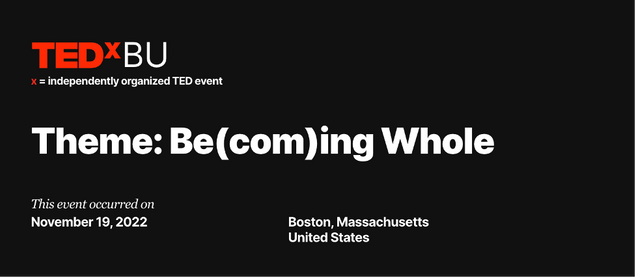 Each year, TEDxBU hosts an interdisciplinary event to unite speakers and attendees across the BU community to discuss ideas, wherever they may stem from. This year's theme, continuing from a partnership with the Howard Thurman Center, is Be(com)ing Whole.
Click below to view each of the speakers talks
.https://www.youtube.com/playlist?list=PLHRR1TZBL5ry_iaitrLpXipejzdIwhuD_ 
Speakers
Career Counselor at the Center for Career Development & Graduate Student in Wheelock College
Angela Richard is a higher education professional specializing in career coaching, qualitative research, and student affairs. She is a Career Counselor at Boston University's Center for Career Development and a graduate student and course facilitator at the Wheelock College of Education and Human Development. Richard is passionate about how people, specifically college students, experience a sense of belonging in spaces that are not created with every student in mind. She enjoys presenting at and attending conferences on personal development and inclusion, reading, writing, blogging, and podcasting.
Author, Founder at American Inequality
Jeremy is the author of American Inequality, a publication and data portal that analyzes the interconnected nature of US inequality. His research looks at the ways that inequalities in food deserts, incarceration, life expectancy, internet access and more are interwoven so that change-makers can develop policies that target the most critical issues in a community. His work has been featured in Bloomberg, The Economist, The Lexington Herald, and Cheddar News. He began his career at the Federal Reserve in New York, has founded two different startups aimed at reducing inequality in communities, and now works at Google focused on privacy policy. Jeremy received his MBA from MIT Sloan where he was the valedictorian, his MPA from the Harvard Kennedy School, and his BA from the University of Pennsylvania. Jeremy grew up in Brooklyn, NY where he now lives with his wife.
Undergraduate Student
Kennedy is a senior at Boston University studying Biological Anthropology with a minor in Biology. On campus, she is the co-president of the anthropology club and an officer in her sorority Delta Delta Delta. She is also a volunteer research assistant in the Sensory, Morphology, and Anthropological Genomics lab while working two part-time, on-campus jobs. Off-campus she enjoys volunteering with Girl Scouts of the USA and BLM-860 a Connecticut local activist group. After college Kennedy hopes to continue her education by going to graduate school. Her passions include mental health advocacy and spending time with her friends and family.
Graduate Student
Luca Del Deo is a student scholar in the burgeoning field of meditation studies interested in exploring how unusual and unstudied meditative practices from various traditions implicate agency in the human relationship between the mind, mental health, the body, and perceptions of reality. He is currently studying at the Harvard Divinity School for a master's program combining religious studies, psychology, and neuroscience methodologies. Luca works at the Center for Mind and Culture as a research assistant for a new project in the Cognitive Neuroscience of Religious Cognition. In May of 2022, he graduated from Boston University with high honors in Philosophy & Psychology and the College Prize in Religion. His undergraduate research developed a case study of how meditative practice can radically alter personality and perception. He is now developing an ethical, comparative framework as a foundation for future studies on how meditation research can inform normative mental behaviors.
Lugina Guazhco
Undergraduate Student
Lugina Guazhco is a senior undergraduate student at Boston University majoring in Health Science with a minor in Psychology. On campus, she serves as a Student Health Ambassador for Health Promotion and Prevention where she works with a cohort of like-minded individuals to design and implement wellness programs for the Boston University student body. Her time at Sargent college and professional experiences has enabled her to become a student leader and advocate for the physical, mental, and social well-being of her peers through channels such as social media campaigns, tabling events, and community service. As a first-generation student from Queens, New York Lugina has experienced firsthand the need for advocacy within public health and health equity, and hopes to continue her efforts within the field post-graduation.
Doctoral Candidate
Ning is a social worker, psychotherapist, and researcher. She is a first-year doctoral student at Boston University at the school of social work with a research focus on the intersection of trauma, substance use, and sexual health. Before coming to Boston, she worked as a psychiatric social worker at Henry Ford Health System, working closely with individuals battling severe mental illness and substance abuse. Ning earned her master's at the University of Michigan and her bachelor at Michigan State University; her active engagements in multicultural non-profit work with underserved populations during that time intrigued her passion for understanding the impacts of complex trauma across the lifespan. In addition, she is a sex therapist in training, aiming to destigmatize sexual health and promote wellness. She is passionate about storytelling, producing knowledge, building human connections, and raising awareness.
Graduate Student, Music Contractor
Sapphire Skye Toth earned her Bachelor of the Arts Degree in Music Composition at the University of Nebraska – Lincoln with a Clarinet Performance emphasis and a minor in Business in May of 2022. She is currently a Masters of Science Degree student in Arts Administration at Boston University. As a musician, Toth has played clarinet and saxophone in a variety of large and chamber ensembles. Toth currently works as a freelance composer and music contractor, composing for live ensembles as well as new and emerging media in addition to production managing. Notable recent projects include the score for Western Meadowlark Productions's short film Moving in Stereo, Theme in Yellow commissioned by Dr. Andrew Peck for Renaissance Magnet High School, and The City of Forget-Me-Nots ft. Jacob "Average" Johnson and Rhiannon Ling.
Seigen Johnson
Graduate Assistant, BU School of Theology, Spiritual Life Office
Seigen Johnson is currently a Master of Divinity graduate student at Boston University School of Theology. Her research interests are interreligious spiritual formation; identification, repair, and prevention of injury in spiritual congregations; and, Buddhist womanist hermeneutics. Seigen is a recently ordained Soto Zen priest who has been practicing Soto Zen Buddhism for more than 20 years, including 6-1/2 years in residence at San Francisco Zen Center. Seigen remains deeply connected to the spiritual lineage of the A.M.E Church in which she was raised. Seigen aspires to continue the conversation about cultural contexts through which practitioners relate to Buddhist practice. She finds self-care primarily through kayaking, hiking, baking, and reading. She also enjoys quiet conversation with family and friends.
Terra Frederick
Graduate Student
Terra is a Master's of Sacred Theology student at Boston University with a focus in Practical Theology and Hebrew Bible. Terra is a Tri Alpha honor society member and a McNair scholar. Terra holds a Master's of Divinity from Boston University School of Theology and a BA in Missions from Southern Nazarene University. In her free time, she enjoys exploring Boston and working on her next knitting project, which currently is a cable knit sweater whose pattern is 14 pages long. She has been knitting since 2010 and her favorite thing to knit is socks.