The Center of Excellence in Sickle Cell Disease, directed by Elizabeth S. Klings M.D., supports the highest quality of patient care in an attempt to make Boston Medical Center (BMC) the treatment facility of choice for Boston-area patients with sickle cell disease. The Center also promotes interactive basic and clinical research and patient and professional educational activities.
Components of the Center of Excellence in Sickle Cell Disease
The Basic and Translational Research Program in Sickle Cell Disease (BTRP)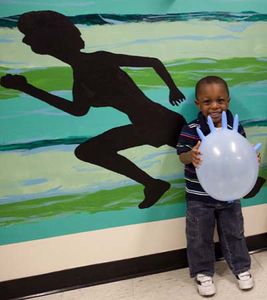 Genetic modulation of fetal hemoglobin expression
The use of iPS cells to increase fetal hemoglobin expression
Mechanisms of hemoglobin switching
Sickle cell patient database and biological sample repository
The Patkin Sickle Cell Adult Clinic (Clinical) The adult sickle cell clinic is located in our newly opened Solomont Cancer Center. This unit is a state-of-the art facility where patients are seen daily by faculty within the Adult Hematology/Oncology section. There is an infusion center where acute pain episodes may be treated. Dr. Hedy Smith, Dr. Lillian McMahon and Charlene Sylvestre, NP, staff this clinic.
The Pediatric Sickle Cell Clinic (Clinical) The pediatric sickle cell program at Boston Medical Center provides state-of-the-art care to children and their families affected by all types of this disorder. With emphasis on prevention and maintenance of wellness, the pediatric program proudly reports extremely high rates of recommended vaccines administered, screening tests completed, and use of preventative medications such as penicillin and hydroxyurea by eligible patients. This team is co-led by Dr. Amy Sobota, MD, MPH and Dr. Caitlin Neri, MD, MPH.
Sickle cell inpatient services (Clinical) Inpatient services are available for adults and children. All inpatients with sickle cell disease are consulted on by experts in the management of this disease.
The Hemoglobin Diagnostic Reference Laboratory (Diagnostics) This laboratory, directed by Dr. Eric Burks, provides genetic testing for hemoglobinopathies, including antenatal diagnosis, throughout the US and many foreign countries.
Overview of the Research Program of the Sickle Cell Center: (Research)
The Center for Excellence in Sickle Cell Disease has an active basic science, clinical and translational research program devoted to increasing understanding of disease pathogenesis, the clinical epidemiology of complications of the disease and defining new treatments for patients.
Current research initiatives in the adult program of the center:
Using genomic technologies to identify biomarker signatures of Sickle Cell Disease severity
Understanding mechanisms of inducing fetal hemoglobin expression in Human adult and cord blood erythroblasts and Induced Pluripotent Stem Cells (iPSC).
iPSC-based mapping of globin expression throughout human erythropoietic development
Targeting LSD1 as a method to Induce fetal hemoglobin expression
Understanding the epidemiology of sleep-disordered breathing in sickle cell disease and its impact on endothelial function and cardiopulmonary outcomes
Understanding the clinical outcomes of venous thromboembolism in SCD and the role of thromboses as a pulmonary vascular modulator
Evaluating the effectiveness of pulmonary arterial hypertension therapies in pulmonary hypertension of sickle cell disease
Phase I, II, and III clinical trials of novel therapeutic agents
For further information, contact:
Director:
Elizabeth S. Klings, MD
Associate Professor of Medicine, Department of Medicine
Chobanian & Avedisian School of Medicine
Program Director | Center of Excellence in Sickle Cell Disease
Director | Pulmonary Hypertension Inpatient and Education Program
Medical Director
|
Pulmonary Rehabilitation Program
Boston Medical Center
Fax 617 638-5227
Office Location 72 East Concord Street, R-304, Boston, MA  02118