Research
4. Artificial Virus Nanoparticles
5. Nanoparticle-Cell Interactions
6. Plasmon Enhanced Pathogen Inactivation
1. Plasmon Rulers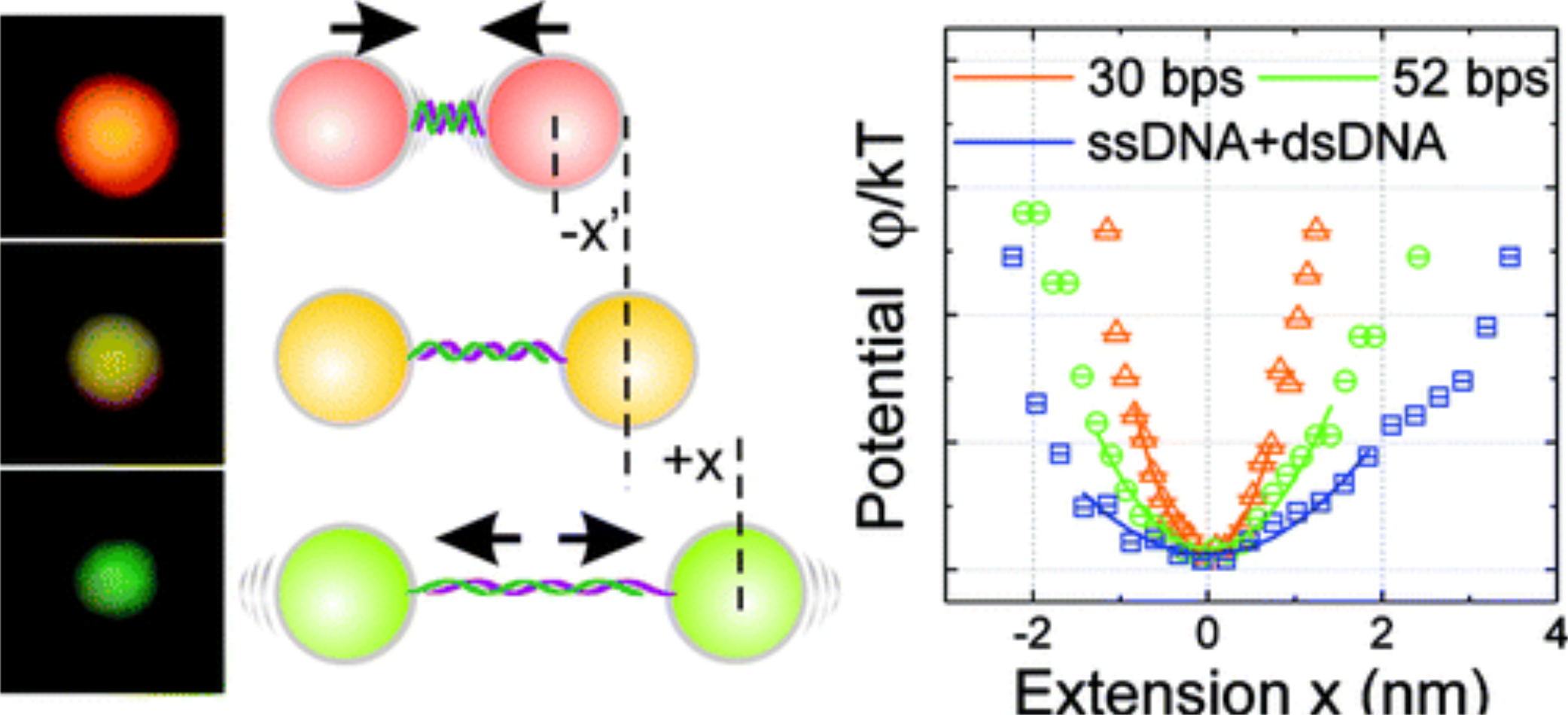 We use DNA programmed self-assembly procedures and agarose gel purification strategies to yield bulk quantities of dimers of polymer tethered gold and silver nanoparticles, so called plasmon rulers. Since the optical response of plasmon rulers depends on the interparticle separation, plasmon rulers can act as dynamic molecular rulers. Noble metal nanoparticles have advantageous photophysical properties. They are extremely bright and they do not blink or bleach. Plasmon rulers enable distance measurements beyond the spatial and temporal barriers of alternative fluorescence based molecular rulers such as fluorescence resonance energy transfer (FRET). If the distance dependent polarization anisotropy of coupled nanoparticles is utilized as well, plasmon rulers allow simultaneous distance and orientation measurements. Due to their large optical cross-sections, plasmon rulers can be used in massively parallel single molecule assays with high temporal resolution.
We are currently using employing plasmon rulers to investigate biomolecular linker materials for the plasmon rulers. Additionally, we investigate many systems through Plasmon Coupling Microscopy (PCM), a technique that depends on the distance dependence of the plasmon coupling between particles in solution or on a surface to determine the density and proximity of the molecule of interest.
Relevant Publications: 
Sonnichsen, Reinhard, Liphardt, & Alivisatos, Nature Biotech. 23, 741 (2005).
Reinhard, Siu, Agarwal, Alivisatos, & Liphardt, Nano Lett. 5, 2246 (2005). 
Yang, Wang, Yan, & Reinhard, J. Phys. Chem. C 114, 5901 (2010). 
Chen, Hong, & Reinhard, Nano Lett. 15, 5349 (2015).
2. Plasmonic Chiral Forces
We investigate novel physical properties of electromagnetic fields in the context of chiral surface plasmon polaritons and chiral plasmonic structures. We use dielectric materials, such as silicon, to develop these plasmonic/photonic structures that can be used to replicate optical components on a much smaller scale (i.e. wave plates) and to investigate chiral biomolecules.
Relevant Publications:
Zhao, Alizadeh,  & Reinhard. J. Phys. Chem. C 120, 20555 (2016).
Alizadeh & Reinhard. Opt. Express 24, 8471 (2016).
Alizadeh & Reinhard, Opt. Lett. 41, 4735 (2017).
Zhao, Alizadeh, & Reinhard, ACS Photonics 4, 2265 (2017).
3. Quantum Plasmonics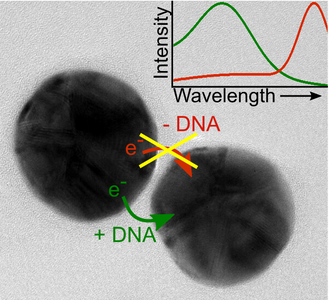 We have developed methods of DNA-programmed self-assembly of nanoparticle dimers that allow for control of the separation between the particles, dependent on the amount of DNA present during synthesis. By controlling the separation, we are able to study the effects of the DNA on the plasmon coupling as a variety of length scales, particularly small separations where quantum effects may begin to affect the coupling. The incorporation of molecular components, commonly found in plasmon rulers and increasingly in larger plasmonic systems, may increase the electron transport between the particles, effectively extending the region where quantum effects may be observed through the plasmon resonance.
We are currently investigating the effect of different materials, both inorganic and biological, on the electron transport between nanoparticles dimers.
Relevant Publications: 
Lerch & Reinhard, Adv. Mater. 28, 2013 (2016).
Chen & Reinhard, Adv. Mater. 28, 3522 (2016).
Lerch & Reinhard, Int. J. Mod. Phys. B 31, 174002 (2017).
4. Artificial Virus Nanoparticles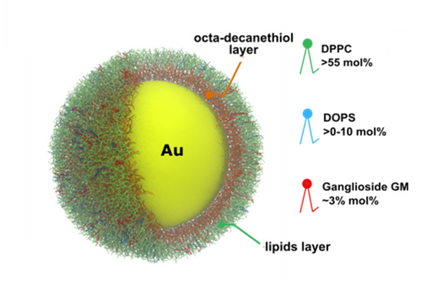 We developed artificial virus nanoparticles (AVNs) to track the infectious pathways of viruses through conventional optical methods. AVNs feature a metal nanoparticle core, which is detected using scattering microscopy, and a lipid outer layer, which can be composed of any stable lipid membrane structure. Variation of the lipid composition during synthesis offers a unique opportunity to structure the lipid membrane for distinct purposes.
We use AVNs to investigate a variety of lipid mediated interactions, including cellular uptake of viruses and protein corona formation on lipid membranes. These novel nanomaterials offer a significant improvement in the ability to track and monitor a variety of cellular functions as well as provide a potential method of targeting specific lipid mediated interactions for drug delivery or  cellular inhibition purposes.
Relevant Publications: 
Yu, Feizpour, Ramirez, Wu, Akiyama, Xu, Gummuluru, & Reinhard, Nature Commun. 5, 4136 (2014).
Yu, Xu, Ramirez, Kijewski, Akiyama, Gummuluru, & Reinhard, ACS Nano 9, 4182 (2015).
Xu, Reiser, Yu, Gummuluru, Wetzler, & Reinhard, ACS Nano 10, 1189 (2016).
5. Nanoparticle-Cell Interactions
We use gold and silver nanoparticles as optical labels for a variety of cellular uptake pathways, with a focus on the Epidermal Growth Factor (EGF). Epidermal Growth Factor Receptors (EGFR) are important cancer biomarkers, and advancing our understanding of their mechanisms is critical. Using the nanoparticles as optical labels increases the lifetime for analysis when compared to fluorescent markers, and results in sub-diffraction limited spatial monitoring, due to the distance dependency of the plasmon coupling for the particles. Additionally, spatial monitoring of the particles contributes to mapping of the cellular membrane and the pathways that receptors activate within the cell.
Our main goals are to map the spatial distribution of the EGFR biomarker  and other relevant biomarkers on cancer cell lines, resulting in the characterization of the receptor organization on a variety of length scales. We also study the dynamics of this surface organization and the factors which lead to EGF-mediated uptake of the particles.
Relevant Publications:
Wu, Xu, & Reinhard, Nanoscale, 8, 13755 (2016).
Wu, Yu, Feizpour, & Reinhard, Biomater. Sci., 2, 156 (2014).
Wang, Yu, Boriskina, & Reinhard, Nano Lett., 12, 3231 (2012).
Rong, & Reinhard, PLoS ONE. 7, e34175 (2012).
Wang, Boriskina, Wang, & Reinhard, ACS Nano, 5, 6619 (2011).
6. Plasmon Enhanced Pathogen Inactivation
Laser irradiation techniques have attracted interest as a photonic approach for the selective inactivation of virus contaminations in biological samples. We combine laser irradiation techniques with localized surface plasmons on gold nanorods to significantly enhance the virus inactivation.  The overlap of the plasmon resonance and the laser irradiation wavelength is a crucial component to this method, as non resonant nanorods do not lead to an inactivation of the viruses. We are currently exploring a variety of methods to further enhance the selectivity and effectiveness of this method over multiple virus samples. 
Relevant Publications:
Nazari, Xi, Lerch, Alizadeh, Ettinger, Akiyama, Gillespie, Gummuluru, Erramilli & Reinhard, Sci. Rep., 7 11951 (2017).