All

Stories
The New Disruptors
Meet Questrom's Rising Alumni Stars. Don't Be Jealous, Be Inspired.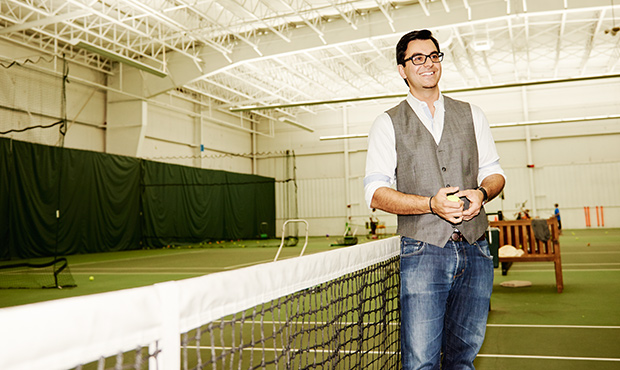 Danny Wadhwani:
Green Lighting Pioneer
How many brothers does it take to change a lightbulb?
Make that, change thousands of lightbulbs.
Two.
In 2009, Danny Wadhwani (BSBA'09) and his brother had $6,000 and an idea for making industrial lighting more eco- and budget-friendly. Today, their lighting efficiency company, ThinkLite, is an Inc. magazine "30 Under 30" and readers' choice winner; in 2013, the firm was number 46 in the Inc. 500, a ranking of America's fastest-growing private companies. Since its founding, Wadhwani says, ThinkLite has achieved triple-digit growth each year—the brothers have consigned a lot of energy-sucking bulbs to history.
ThinkLite's big idea—making it easy and affordable for large companies to convert to energy-efficient LED lighting—has attracted a long list of impressive clients, including the Prudential Center Parking Garage in Boston, the largest indoor parking facility in New England. Until recently, says Wadhwani, ThinkLite's COO and CFO, it took about 7,500 32-watt fluorescent lamps to light the cavernous space, which houses up to 3,660 cars. Now, the garage is illuminated with ThinkLite's 8-watt LED retrofit kits, drastically reducing wattage consumption and increasing lighting lifespan from 14,000 hours to 65,000 hours. While homeowners interested in energy savings simply need to buy and install new lightbulbs, LED conversion for commercial clients typically requires replacing the fixtures themselves—a costly, wasteful, and time-consuming process. The ThinkLite solution makes it possible to simply install LED bulbs in existing fixtures, reducing the return on investment from roughly seven years to two—and eliminating landfill waste created by tossing the old fixtures.
Wadhwani says the lights ThinkLite installs aren't just greener, they're brighter. "This is our key advantage," says Wadhwani. ThinkLite's products use a proprietary and tiny computer chip that reportedly helps give the company's bulbs some of the highest lumens per watt—the amount of light produced for every bit of electricity consumed—in the industry. According to Wadhwani, ThinkLite's bulbs push out 131 lumens per watt compared to an industry average of around 90. "And we're about to jump to the next level," he says, "180 lumens per watt."
For the Prudential Center garage, ThinkLite's efforts have equaled big cost savings—about $240,000 per year. Other ThinkLite clients include AT&T, Boeing, Kodak, Honeywell, Men's Warehouse, and Dunkin' Donuts.
Wadhwani and his brother Dinesh had always dreamed of starting a business together. "We just didn't know what it would be," says Wadhwani. When Dinesh first dreamed up a better lighting solution as a Babson College undergraduate, Wadhwani was busy pursuing a career in consulting. Initially, he pitched in with advice and financial support. After leaving BU, he took a job with PwC. "I wanted to get my MBA, follow the corporate American dream—and then, somewhere down the line, I figured we'd start a business of some kind together." A family crisis changed everything.
"Right from the beginning, we built our company on love, kindness, and respect. We want our employees to feel empowered and successful."
Indian by origin, the brothers were born and raised in Ghana, where they worked summers in their father's plastics manufacturing business. In 2011, Wadhwani's father lost his trusted plant manager, and the business was faltering. He turned to his oldest son, asking him to come home and help. Immersed in his own fast-paced career, Wadhwani resisted at first. "Then I got a call from my grandfather, who had been visiting in Ghana and seen the situation for himself," Wadhwani recalls. "He said to me, 'What is the value of your education if you can't step in and help your family?'" That call was a turning point for Wadhwani, who arranged his affairs in Boston, took a leave of absence from his PwC job, and flew home. "I didn't know how long I'd be there or if I'd ever come back."
A year later, the family business had turned around, and Wadhwani faced another moment of decision: should he return to the career he'd left behind or should he join his brother and help him build ThinkLite? He remembered his grandfather's phone call, and was able to envision a life beyond corporate America. In 2012, he joined his brother full time. Wadhwani took over operations and finance, while Dinesh focused on product and business development.
For two years, the brothers thought of little else. "They were the hardest years of my life," says Wadhwani. "We were either working all day in the office and then sleeping there at night, or we were working at home until we fell asleep and then getting right back to it as soon as we woke up. Every minute was stressful—building a product, setting up a supply chain, hiring people—we were trying to create something that didn't exist." Eventually, the brothers had the pieces in place: technology development in Munich, component manufacturing in Korea, assembly in China, corporate offices in Boston.
Along the way, Wadhwani found himself drawing directly on his BU education, especially a class with Erik Molander, former executive-in-residence at the Questrom-based Institute for Technology Entrepreneurship & Commercialization. "It's so easy to get caught up in day-to-day operations," says Wadhwani. "But Professor Molander taught me the importance of strategic thinking. Considering how to get from point A to point B. Figuring out how to get to the next milestone."
It was strategic thinking that sparked a course correction in 2013. "We had spread ourselves too thin—we were in 21 countries—and we weren't making enough or growing fast enough." And so the brothers stepped back and reassessed. Today, the company is doing business in 14 countries, specializing in the replacement of fluorescent and metal halide lights for large commercial clients. Most of the focus is on the East Coast of the United States, where some states offer energy rebates to help make projects attractive to customers. "Growth has taken off," says Wadhwani.
What hasn't changed is the spirit that motivates the founders. "Right from the beginning, we built our company on love, kindness, and respect. We want our employees to feel empowered and successful," he says, "because one of the reasons we are successful is the quality of people we've been blessed to have on our team.
"We feel very humbled and fortunate about where we've come from and what we've accomplished," says Wadhwani. The brothers still work hard: 16- and 18-hour days are typical.
But even on the longest days, there's something they never forget—their childhood dream. Here they are, as they'd always planned, working together, building a business.–Suki Casanave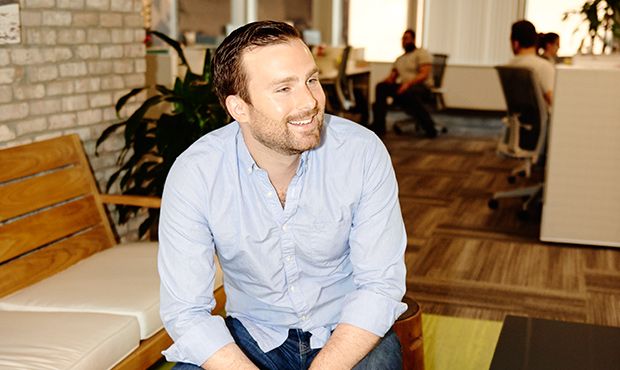 Matt Barba:
Software CEO
When Matt Barba tried to sell real estate, he couldn't hit on a killer sales technique; when his tech company grew, his employees told him his coding was doing more harm than good. But he still made it into the 2016 Forbes "30 Under 30"—in the enterprise tech category, lauded for a start-up targeting realtors. In 2011, Barba (CGS'07, BSBA'09) cofounded Placester, which builds software for the real estate industry. It employs 175 people and has raised some $50 million in funding.
Placester helps real estate agents move beyond listing homes in store windows to hosting multimedia showings in a digital world; online listings company Zillow alone gets about 140 million hits a month. But Barba says the industry he worked in—realtor was one of his college jobs—was full of "traditional businesses that didn't really run with software." These days, realtors not only have to be online, their websites need to tie into a multitude of back-end functions, such as customer relationship management and marketing. Placester offers software solutions that check all of those boxes for brokers, agents, publishers, and associations. The potential market is huge: according to property data provider RealtyTrac, 3.1 million homes and condos—with a median home price of $206,500—were sold in the United States in 2015. That's a lot of commissions.
Barba might not have been the best real estate agent, but his exposure to the industry allowed him to spot a gap in the market. After college, he and his cofounder started coding, building the first version of Placester's software. In 2011, the company raised $826,000 after taking part in a business accelerator program; in 2013, it raised $2.5 million in seed funding.
Most entrepreneurs can rattle off a litany of risks they've taken in the dogged pursuit of an idea: a job quit, a funder turned down. When asked about the biggest chance he and cofounder Frederick Townes (CAS'02) took, Barba can't think of one.
"When we were in an apartment five-and-a-half years ago, we could've wasted six months giving this a shot and said, 'Ah, screw it, we'll go join the finance industry or be lawyers or whatever,'" he says. "But instead we were two guys who knew how to code, and we were having fun, and we were like, 'Yeah, we want to solve this problem and build something.' And we just made very calculated bets from there."
In 2014, Placester raised another $5.5 million in funding; a further $40 million would come in 2015. The company says it now serves 400,000 professionals in the real estate industry.
"The biggest challenge is you don't want to scale too quickly," says Barba. "You don't want to push the boundary too hard and sacrifice something like culture or have it be a terrible place to work or build poor-quality products. That requires being really, really thoughtful about how quickly you scale and what decisions you make."
"If you're the best at everything in your company…what an awful place to work."
After three years, his newly hired coding team suggested Barba step back from building the software. He concentrates his efforts on recruiting and keeping staff and talking to customers. And he has no problem hiring—and leading—people with decades more experience than he has. Townes was already a successful developer and entrepreneur when Barba reached out to him after graduation, working their shared BU connection to ask for advice with an unrelated business idea. The two stayed in touch.
"If you're the best at everything in your company, unless you're some kind of a miracle person, what an awful place to work," says Barba. "The one thing you need to get really good at as a CEO is empowering people….If your superpower, the thing you're really good at, is helping the best person be in a position to get something done or make the right decision, people love that and it attracts the smartest people."
That's sound advice for any newly minted Questrom alums looking to follow his lead: find someone one step ahead of you and ask for their help.
"Tell them what you're doing, and ask them how they think you can do it. And that can be a very powerful thing to help you navigate what is very clearly a maze and not a marathon to start a company."
He also encourages budding entrepreneurs to quit the hanging around: if you've got an idea, go do something about it.
"We started the company when we were children, you know? We had no obligations," he says. "If I was trying to start this today, it would be a very different picture for me because I have a different set of responsibilities and that would be very hard. But when you're 22…"
Getting Placester off the ground required some luck—good timing, fortunate connections—but Barba says a lot of grunt work was necessary to take advantage of providence.
"I figured it's this big complicated chess match and you're brilliant and you navigate through it—and it's really not. You just show up to work every day, you type really hard, you talk to the people who you're trying to sell to, you ask them why they like it and why they don't like it, and what would cause them to spend more money, and then you do those things. And you do it every day. And you do it for 10 years and you'll get a great business. It's not rocket science."–Andrew Thurston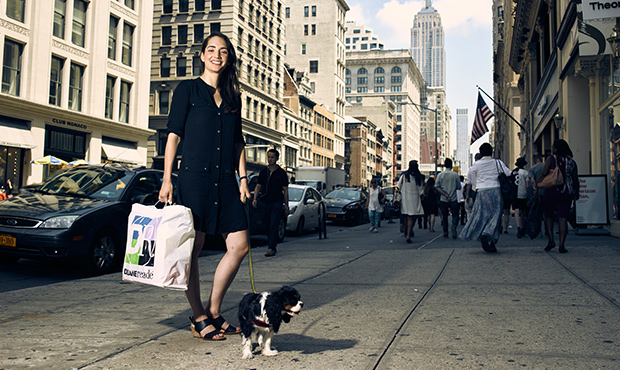 Marcela Sapone:
To-do List Guru
In the beginning, there was "stickman"—a rough idea for an affordable, on-demand butler service sketched out on a piece of scrap paper. It was spring break and Marcela Sapone (BSBA'08, UNI'08) was brainstorming about possible business ventures. "I was working with a bunch of friends," she says, "and we explored a different idea each day—five days, five ideas." Stickman was the winner, and he has a name: Alfred.
There are more than 100 Alfreds actually, and they all work for Sapone, who is the CEO and cofounder of Hello Alfred, a tech-driven butler business. After winning TechCrunch Disrupt 2014, a competition where start-ups compete on stage in front of potential investors, Hello Alfred raised $12.5 million in venture capital. The start-up operates in Boston and New York City, with plans to expand to San Francisco, Los Angeles, and Washington, DC.
Inspired by Batman's trusty tux-clad ally, Hello Alfred is designed to handle a slew of day-to-day necessities, from grocery shopping and dry cleaning to tailoring and pharmacy runs. You get your personal Alfred to help keep your Batcave in top form, freeing you to discover your own superpowers—or at least to live your life with more focus, efficiency, and purpose. "Time shouldn't be a luxury," says Sapone, who designed Hello Alfred to be affordable, at about $30 to $60 per week, depending on the number of visits.
The world is crowded with services offering to simplify your life in countless ways—there are apps for cabs and groceries, even dog walkers. You might be free of the chores, but coordinating all the services that manage them can be a time-consuming undertaking in itself: How many apps can you be bothered to juggle? That's where Alfred comes in. Design your wish list, pass on your credit card number and your house keys, and leave the rest to Alfred, a real person who does real chores, leaves real notes, and also manages those multiple independent services—dry cleaning, grocery deliveries—that you'd otherwise have to coordinate yourself. A companion smartphone app allows customers to start and manage their butler service—it even has a big "A" button they can hit for last-minute requests. The drop-by butler assigned to each client gives this business its edge, according to Sapone, a recent Forbes "30 Under 30" winner. "Our clients love the personal touch," she says. "They come home happy and feeling like they've been taken care of."
Hello Alfred also stands out for its commitment to hiring full-time employees, who make from $18 to $25 per hour, plus benefits. "We take our time with the hiring process," says Sapone, noting that rigorous screening means only 6 percent of Alfred applicants make the cut. The extra cost associated with W-2 employees—roughly 20 to 30 percent higher than using independent contractors, according to CNBC—is worth it, says Sapone, who needs to attract and retain exceptional employees, people clients are comfortable having in their homes.
"BU teaches you to be scrappy, to be a problem solver, to figure it out."
Sapone is taking the long view of her entrepreneurial gamble, focusing on building a strong team that will be able to weather the challenges of a start-up. "It's not a marathon," she says. "It's actually a series of marathons—you finish the first 26 miles and there's another one waiting for you." To survive, you need a committed team.
It was at BU that Sapone first learned the power of forging strong relationships. One favorite class, Organizational Behavior, focused on the fundamentals of marketing and business models. "We had to work in teams," she says, "teams we didn't choose. And we all got the same grade. It really forced you to find a way to motivate everyone, to help the whole team become successful and invested in outcomes. As in life, you have to figure out how to work with people from all different backgrounds."
BU, with its international worldview, was a good fit for Sapone, who moved with her family to Europe when she was 10 and lived in both Copenhagen and Paris. In Boston, she lived in a brownstone with others in the University Professors Program, a precursor to the current honors program, which allowed her to design her own interdisciplinary major. "My first entrepreneurial venture was my college degree," says Sapone. "I was able to pursue whatever was interesting to me—and then define my own direction." She took photojournalism. She explored engineering and computer information systems. And she tried business classes, too. She liked Questrom so much that she devised a double major, graduating with a self-designed degree in politics, ethics, and economics, as well as a business degree. "I was on course overload the whole time," she says.
Sapone, who went on to attend Harvard Business School—until she dropped out to start Hello Alfred—built what she calls her business tool kit at BU. "I draw every day on the things I learned there," she says. "BU teaches you to be scrappy, to be a problem solver, to figure it out." In two years, Hello Alfred has grown from operating in one zip code to 81, from employing 30 people to more than 100. But Sapone knows she faces daunting odds. "The probability that we fail is higher than the probability that we succeed," she says. "My job is to try to change that probability every day."
Her plan? "We're here to build something we believe should exist in the world—it's not just about making money," she says, stressing the need to stay focused on core values and not lose sight of any big vision. "You might know where you're heading, but when you're out there in the real world, you're getting punched and trying to defy gravity over and over again." Plus, you're working exhausting hours. One of Sapone's recent strategies has been to practice saying "no" more often: to meetings, to interviews, to people who want to get coffee. "To anything that's not mission-critical." And, yes, she could use an extra pair of hands—a personal butler, perhaps?–SC
Alex Hodara:
Property Magnate
When Alex Hodara began working as a realtor his freshman year, it cost him every cent of his $2,000 savings. The investment? Taxicabs, to speed his frequent trips between campus and rental showings around Boston. Within four months, he'd recouped his expenses by brokering rentals to other students. By his junior year, he'd formed his own rental company, with 15 agents reporting to him. And by the time he graduated, he'd negotiated sales deals for 20 properties in Greater Boston, landing on Businessweek's list of best young entrepreneurs in 2010 and the Forbes "30 Under 30" list—in the real estate category—in 2011.
At every step, Hodara (BSBA'10) says, he's asked himself one question: What are you willing to lose?
"I learned that you can never get ahead of yourself, and you need to stay focused on finishing the deal."
"I'm not a big fan of going outside my comfort levels, so throughout my career I've always calculated the downside," he says. "Figure out what it is you can lose—time, money, sleep—and then get focused. You know your downside and you're okay with it, so strive for that upside."
Hodara honed his entrepreneurship skills early, raising money during high school by importing poker chips from China during a boom in the game's popularity, and selling them online. When he arrived at BU, he quickly spotted a new niche market: classmates and their parents who were frustrated navigating the Boston rental market. "Everyone was always looking for an apartment, but they had a general distrust of salespeople," he says. "I thought my peers would trust me."
His instincts proved correct, and his business boomed. But a career as a rental broker, however profitable, wasn't Hodara's endgame; he wanted to own his own company. He established Hodara Real Estate Group in 2008, while still a junior, and hired a team of agents, all college students, to show and rent properties; soon after, the company added sales to its portfolio, drawing on the connections Hodara had already established with local landlords and BU-affiliated families.
In 2010, he spent six months putting together a seven residential building deal in Boston that would have netted the company its biggest-ever return. Hodara's mind raced ahead with plans to expand the brokerage. Then, the day before the closing, the whole deal fell apart when the buyers tried (unsuccessfully) to renegotiate the deal directly with the sellers. It was a major setback, Hodara says; he'd been counting on the funds and had already begun celebrating. But it also taught him a lesson.
"I learned that you can never get ahead of yourself, and you need to stay focused on finishing the deal," he says. "And I realized that I wanted to be accountable to myself, not other people."
Though Hodara was the head of his own company, he was still vulnerable to the whims of buyers and sellers. After the deal collapsed, he began transitioning out of rentals and sales, and started acquiring and managing properties on his own. The students that made up the bulk of his clientele were graduating, and looking for places that young professionals could afford. If he could raise enough money to buy properties in transitioning neighborhoods with more affordable prices, he thought, he'd corner an up-and-coming market. When he bought and developed his first property, he proved himself a viable competitor; then, he says, he could approach investors about partnering. The strategy echoed his initial risk-what-you-can approach, and yielded a similar payoff: between 2011 and 2016, Hodara says, he joined with investors and acquired 70 properties in Boston and Jersey City. Making the Forbes list cemented his reputation as a forward-thinking entrepreneur, and helped him secure the professional contacts he needed to expand.
Now, Hodara has his eye on growth once again. Inspired by the success of coworking and ride-sharing business models, he's transitioning Hodara Real Estate into Colivo, a new company billed as an experiment in co-living. Potential tenants, called members, sign up for around $1,000 per month (all inclusive) and are matched with roommates in fully furnished, multibedroom apartments in Colivo-owned complexes. Members get gym memberships, weekly housecleaning, Netflix memberships, PlayStation 4 gaming systems, and regular Colivo-sponsored social events. It's a concept that Hodara feels his team is uniquely suited to execute, given its long history catering to the needs of the young professional demographic.
"I've spent a decade learning how millennials want to live, where they want to live, and what they want in their homes," he says. "Colivo is focused on them and their technology habits, financial limitations, and lifestyle needs."
Colivo is run in Boston and Jersey City by a five-person team, and just as the rental agents for Hodara's college apartments were all college students, the team that manages Colivo's properties falls right into the company's demographic target, ages 22 to 34. It's an important part of his success, Hodara says: to have a team in place that really understands the company's mission and values, and creates the culture that the company wants to perpetuate. "And I get to work with the people I choose to work with, and have so much fun with them," he says.
Of course, someone who was a CEO before he earned his bachelor's degree isn't sitting back to see how his plans unfold. He hopes to expand Colivo to 100 units before the end of the year and establish a presence in San Francisco, Austin, Seattle, and Portland, Oregon. He has faith in the company, which has a 100 percent occupancy-retention rate. And he has faith in his own track record, too.–Jessica Ullian