Other Equipment
This is the landing page for other equipment that could benefit from a schedule.  It will also be a repository for pertinent methods, protocols, and songs of the old ones.
The newest member to our team is an Agilent model 2100 Bioanalyzer.  It is in LSE632 (where real-time #1 used to be).  We will mark off the RNA free zones shortly but the PC is on the network and has ample resources for some data analysis including SH880 software.  It is on the scheduler as BioA .
The Windows 10 64 bit system has ample RAM and video memory for most tasks. The credentials used for access are posted on the monitor.  In the future, the system may transition to individual Kerberos logins but for now please use the local 'BioAnalyzer' account.
There is a NanoDrop OneC (c is for cuvette) in LSE 632
Here is the complete Users guideNanoDrop One_User_Guide _for v1.3 sw_ENGLISH for this very versatile spectrophotometer
Also a performance verification white paper on A205 nm methods
The NanoDropOneC viewer software for offline analysis of your data can be downloaded from this link
Leica Sliding microtome in LSE 452(below)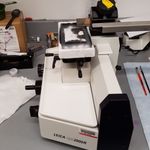 Leica SM 2000R freezing stage sliding microtome has been added to the schedule as 'sliding microtome'.
General notes on it are as follows;
NEVER dispose of dry ice in the sink.  It can destroy the pipes.  Just wait it out it will sublimate on its own.  Also, alcohol cannot be disposed of in the sink.  There is a large red carboy on the floor next to the fume hood for disposing of unwanted ethanol.   The blades are EXTREMELY sharp.  Always exercise caution when loading, removing and cleaning the blade.  While they are expensive if you drop it, get away and LET IT FALL.  There are numerous permanent blades that you may use.  If you find a blade that is dull, dirty or damaged please let me know so that it can be addressed.  You are welcome to bring your own blades or use one that we provide.  The manual for it can be downloaded from Leica_SM2000R_Manual.  Please note that at this time due to high demand the SM2000R is only for cutting frozen material.  Any Paraffin workflow are cut on the Leica RM2145 rotary microtome
A rotary microtome for sectioning paraffin and JB4 blocks is available in LSE 452B
The Leica rotary microtome RM2145 is on the scheduler here.  The users manual for this particular wax microtome can be found here
The Leica RM2145 is a semi-motorized rotary microtome manufactured especially for paraffin specimens and is equipped with an automated coarse specimen advance feature.  Along with a single-handed quick release specimen clamping system and programmable specimen retraction, the Leica RM2145 microtome offers a clear LED display of section thickness and section count. Additionally, this Leica microtome has a motorized coarse advance operation using a rocker button, a fast and safe specimen orientation with anti-tilt function, and a universal knife holder.
Here is a good video reminder of the basics of sectioning.
We have finally added a cryostat to the facility
This full-featured cryostat is located in LSE444.  You can enter through the main swipe entrance for LSE 452.
The cryostat is on the scheduler and all users must be trained and reserve their time online.
Please be sure to follow the general operational guidelines (coming soon).
The full manual is available at the machine as well as here
Songs of the old ones coming soon…